There are several festival dishes that will look familiar from my last post, so I would retrace those steps again, but consider those dishes apart of my festival favorites. Many menu items, like Argentina's beef skewers with chimichurri sauce and the Fisherman's Pie, were also present at last year's festival, which makes them reliable hold-overs I didn't have to worry about. The new booths this year also offered a few surprisingly good alternatives to the tested and true menu items from previous years.
Portugal's Calamari Salad and Pastel de Nata sounded unremarkable, and then I tasted both. Adam's huge portion of Calamari Salad was served cold like a cevíche, and the calamari was tender and fresh. The vegetables in the salad like the red onions and peppers were sweet, and all the ingredients were tossed in olive oil and possibly citrus. There was supposed to be fennel and smoked paparika in the salad, but those ingredients didn't make much of an impression. I could have easily had this beautiful salad all to myself!
The Pastel de Nata was like a gloriously large egg custard Adam and I usually associate with dim sum, except the crust was thicker and the custard inside was a bit sweeter. This custard was one of Adam's favorite items at the festival this year. I wish I would have tried this tasty little dessert earlier, but when I think "pastel," my preconception is more savory than sweet. The fun fact of the day here is that "pastel" is used to describe a savory or sweet item depending on which Hispanic country it's from. Either way, I hope this pastel makes a reappearance at the festival next year.
Aside from the warm, fresh waffles oozing with berry compote that I wanted to eat again and again, Belgium also had another soaring plate of pure yum this year; Steamed Mussels smothered in Roasted Garlic Cream. There was reverent silence at our table as Adam and I shared both a fresh waffle and the mussels. The roasted garlic cream had an even consistency and was rich, but was not overwhelming. We both wanted to tip our plate after devouring those little mussels and drink the cream.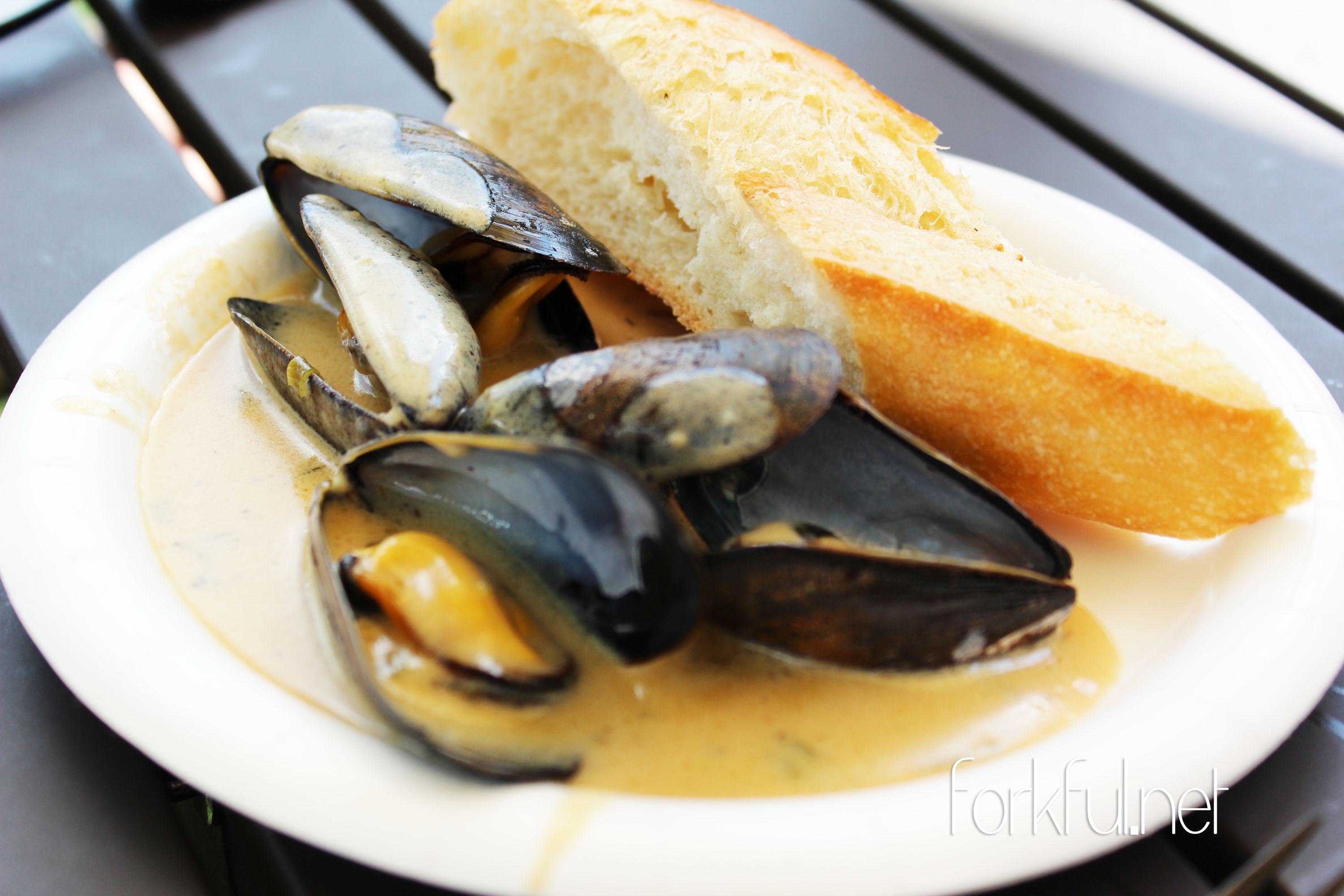 Venturing to another country and another seafood dish, Adam and I came across New Zeland's Seared Sea Scallop with Kumara-Red Curry Puree and Apple Radish Salad, which was beautifully presented. The scallop was tender and plump, but most of the flavor was in the tangy apple radish salad.  The mention of curry in the name had me expecting some kind of spice, but even without spice the scallop was still worthwhile.
The same couldn't really be said about the Soft Serve Vanilla Ice Cream with Grand Marnier at the Desserts and Champagne booth. Imagine a light cup of so-so ice cream perched on top of a large layer of strong, sweet liquor and you wouldn't be far from the truth. Thank goodness I didn't get one for myself because it would have been the first festival offering I would have thrown away — that honor was reserved for the Ropa Vieja from the Caribbean Booth. I was ready to give this dish some leeway even though I knew how this dish should taste like, but there was no amount of leeway that could have redeemed the overcooked, hard white rice — think bad instant rice — or the dry, gummy beef. The beef was well-seasoned but the negatives eclipsed that single positive note.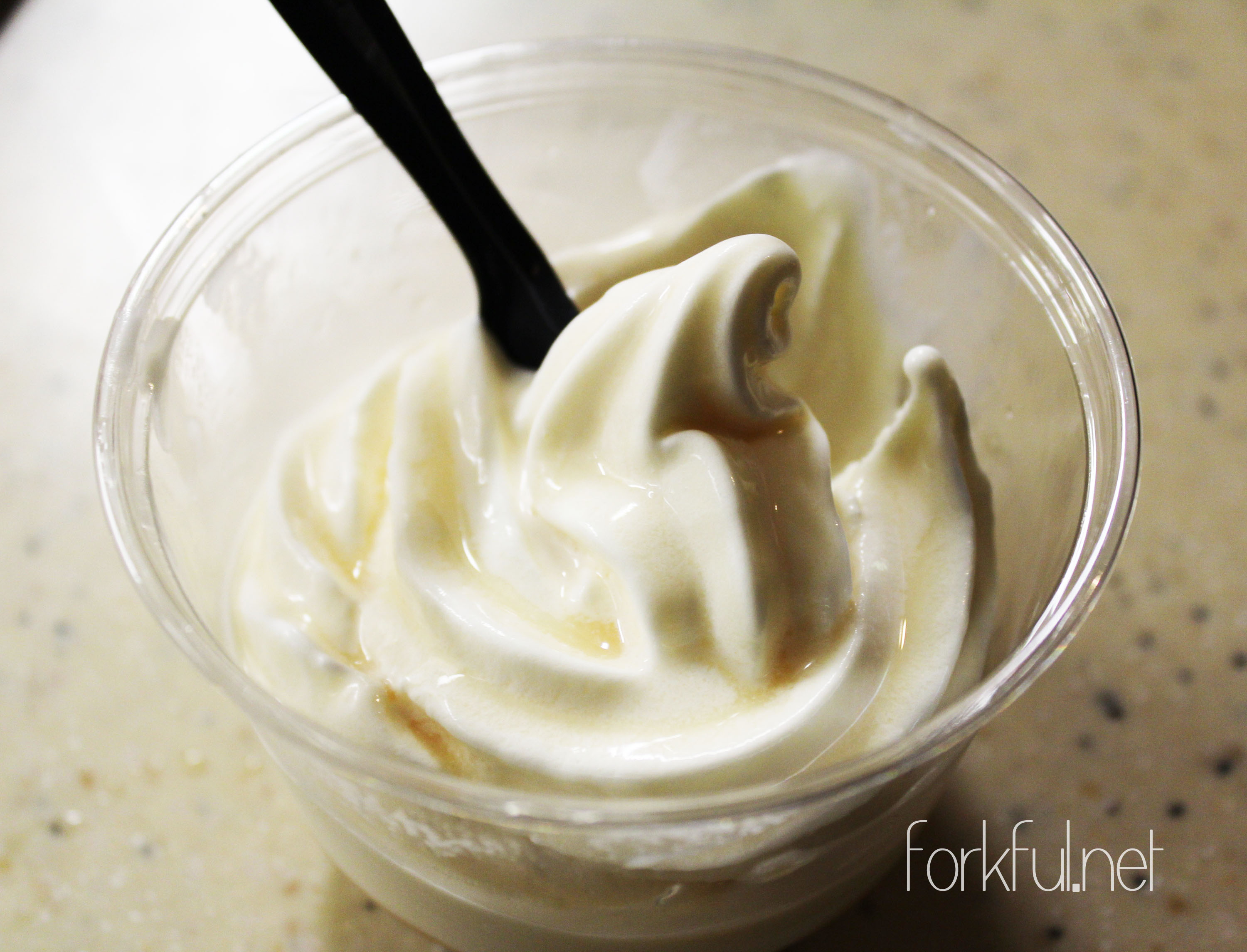 Speaking of traditional Hispanic food, the Flan at Mexico was not that far off from what I'm used to eating at family gatherings. This little cheese custard was lightly sweet with a good measure of firmness and a light touch of caramel. The Dessert Trio at Desserts and Champagne of Lemon Chiffon, White Chocolate Macadamia Mousse with Dark Chocolate Pearls, and Tres Leches Verrine were light and pleasant. The Lemon Chiffon tasted more like passion fruit with a bit of meringue on top, and the White Chocolate Macadamia Mousse had more of a caramel than chocolate finish, if that makes sense. Tres Leches has become one of my favorite traditional Hispanic desserts, especially as a filling in a multi-layer cake, but Epcot's Tres Leches was not nearly as rich as I expected. Plus, I missed the flavor of condensed milk that should at least be semi-present in a tres leches.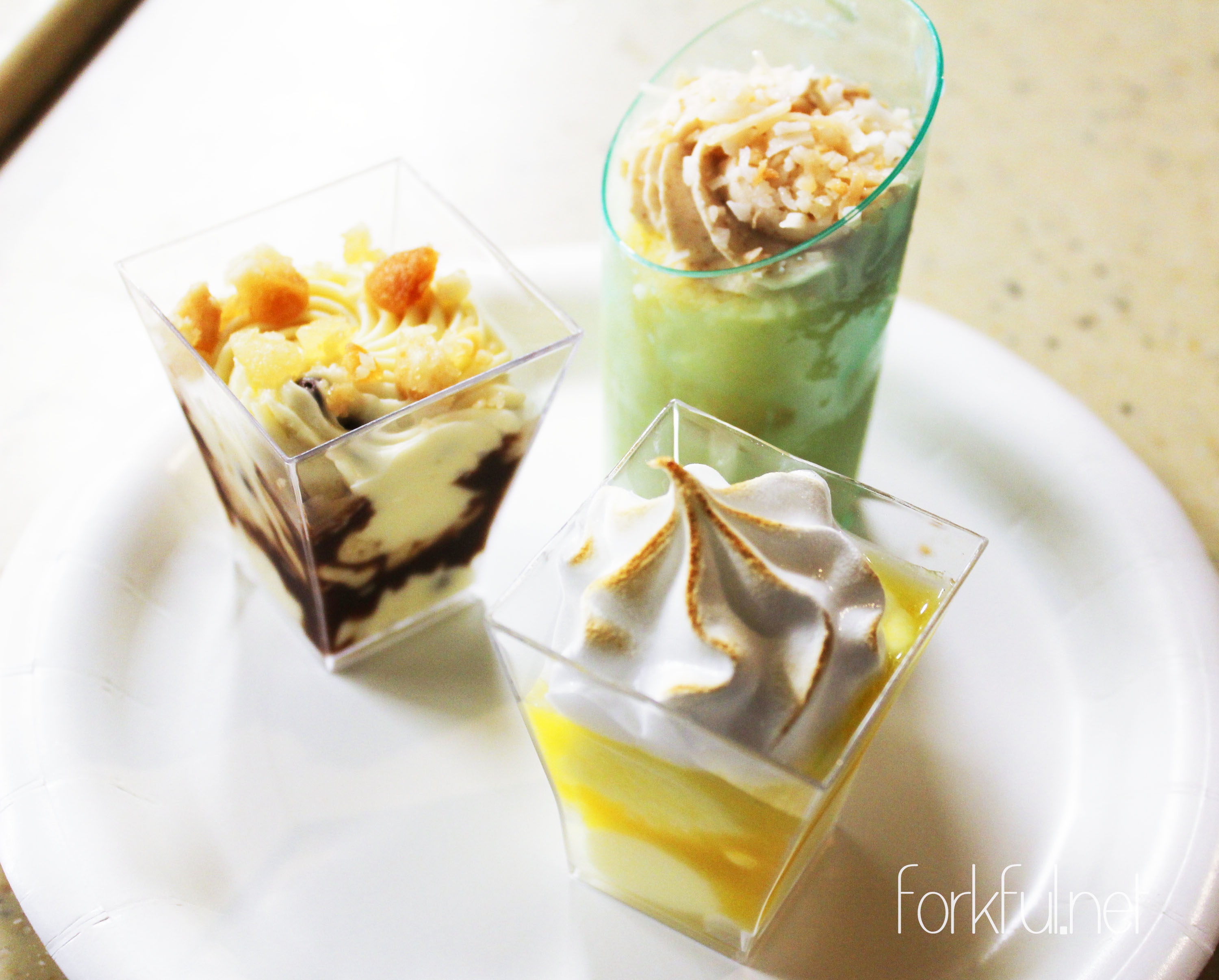 This Epcot festival odyssey ended with a homerun surprised in Japan in the form of braised, cubed pork called Pork Kakuni. Kathleen [A Seasonal Vegetarian] mentioned that the boneless Pork Kakuni was Epcot's answer to guests feedback on the bones in the Wagyu Beef Ribbettes last year. I missed the ribbettes this year, but the pork was so fall-apart tender that it was one of my festival favorites this year.
Between last year and this year, Adam and I feel like we've both thoroughly done the food and wine festival. We'll probably be more reserved with the festival next year unless Epcot changes out most of their booths and menu items. Next year, Adam and I will probably try a few of the seminars and tastings that we didn't have the opportunity to do this year. We did have a blast watching a few of the concerts, especially Sugar Ray and Gin Blossoms, and accompanied several friends to the festival. Disney gift cards were probably our biggest saving grace this year; once the gift cards were empty on any given day it was time to go home.
Is the food and wine festival possible on a budget? Depends on the budget and resisting the urge to reload gift cards. I believe enjoying the festival on a budget is possible when the focus is food, but the trick is remembering that the budget can be easily compromised when it comes to the wine.
Epcot International Food and Wine Festival 2011: Part 1 • Epcot International Food and Wine Festival 2010