Seminole Hard Rock Hotel & Casino's Pastry Chef, Alon Gontowski, strode onto the kitchen battlefield of Food Network confection competition show, Sweet Genius, to put his confectionery mettle to the test. He fought through the gauntlet of mystery ingredients — including vermicelli noodles, spicy tamarind candy, pomelos, and honeycombs — and emerged the winner of bragging rights and the $10,000 prize.
At his core, Gontowski is a rock star with a passion for sweets. Gontowski's career spans over 20 years in the pastry industry. He worked with the chefs of Mohegan Sun Hotel and Casino to make the World's Largest Wedding Cake (15,032 pounds) in 2004, and has lent his expertise to all things sweet at the Seminole Hard Rock Hotel & Casino for five years. Gontowski most recently recruited the culinary talent at Hard Rock's newest eatery, Rise™ Kitchen and Bakery.
Despite being busier than ever, Chef Gontowski's took some time to talk about his role at the Seminole Hard Rock Hotel and Casino, Food Network, and gluten-free on Forkful.
Forkful: During your years at the Seminole Hard Rock Hotel and Casino Tampa you've made everything from plated pastries to large-scale candy showpieces. What has been the most memorable sculptural candy creation you've made and its inspiration?
Alon Gontowski: My most memorable would be the ones we created for the opening party of Hard Rock Café. The combination of the Hard Rock Music theme and the Soulette of the new Hard Rock Girls were showcased in elaborate sugar pieces.
Forkful: What part of working at the Seminole Hard Rock and Casino Tampa do you consider the most fun?
Alon Gontowski: The most fun comes from having the influence of the Music Nostalgia to create
anything from plated desserts to elaborate showpieces.
Forkful: Which dessert would you say is a must-try at the Seminole Hard Rock?
Alon Gontowski: Trying not to be biased and being a dessert lover myself that a tough answer, I would go for the Pineapple Goat Cheese Carrot Cake in our Council Oak Steakhouse. Yummy!
Forkful: You adapted a hardware store spray painter to decorate confections, which was briefly seen on Sweet Genius. Would you adapt other hardware tools for use in the kitchen?
Alon Gontowski: Home Depot is like my second home for my creations. Items like plastic light sheet covers used for textured chocolate, to PVC for sugar and cake structure supports are always used these days. A very different kitchen these days compared to the past, where we were not able to use items as such. It was more about using your own creativity to figure away how to get it done and less about convenience.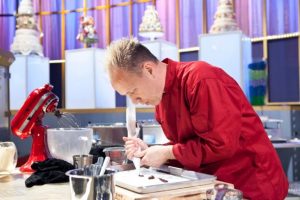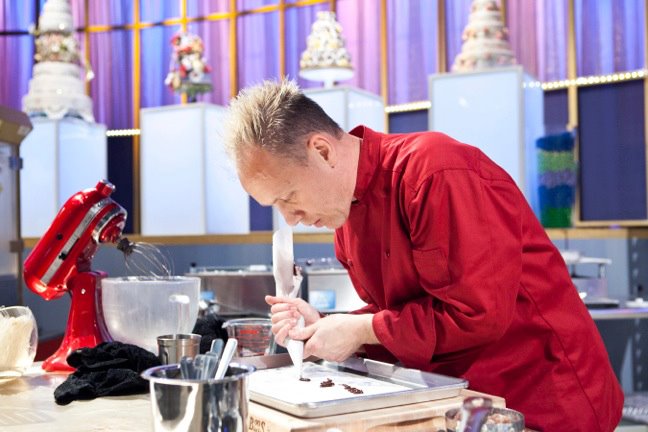 Forkful: Sweet Genius looked like a pressure cooker of creative chaos. Is there another Food Network show that would inspire you to step into the food competition arena again?
Alon Gontowski: Absolutely! Really waiting to see if the pull all the winners from each episode to compete in a Champion of Champions Sweet Genius. In the meantime I am possibly considering go for the Next Food Network Star.
Forkful: Both new and experienced chefs have taken their culinary skills to the streets in food trucks. What do you think of the growing food truck community in Tampa and across Central Florida?
Alon Gontowski: It's a great way to bring to the people a new experience of flavors and skills that were not there in the past. A mobile restaurant on wheels is kind of cool. The pressure is on them though to push the quality and uniqueness of the food to keep it alive. We will see if it is just a fad.
Forkful: Which food truck, restaurant, or farmers' market would you recommend to someone eager to explore the Tampa food scene?
Alon Gontowski: I would have to say Columbia Restaurant.
Forkful: A few dessert trends in recent years have been gourmet cupcakes, pies, and even popsicles. What do you think will be the next dessert trend?
Alon Gontowski: I do not know if I would call it a dessert trend but the demand for gluten-free products has been trending upward due to both the rise in celiac diagnoses and people choosing to avoid gluten in hopes of help alleviate a variety of problems. Pastry chef's now are being challenged to use their expertise to create flavorful desserts.
Forkful: As a professional pastry chef, what is the best advice you can give an aspiring chef?
Alon Gontowski: If attending a culinary school apply yourself to learn, absorb and get as much as you can out of it. When you step into the real world is when your real test comes. The profession is demanding both mentally and physically. You have to be prepared to handle the pressures of workloads; time constrains and complete what the chefs ask of you, consistently! Consistency is a big issue these days.
Learn more about the restaurants Chef Alon Gontowski provides with sweet treats online at the Seminole Hard Rock Hotel and Casino website, or send the Seminole Hard Rock a tweet at @SHRTampa.