Italian restaurants are decent for the most part, but few rise above that line to memorable. Timpano Italian Chophouse & Martini Bar puts their own spin on Italian without losing the family style, traditional hallmark flavors people associate with Italian food. Timpano recently hosted a food blogger tweetup where Chef Patrick and his kitchen staff shared some of the most memorable Italian I've had in Orlando.
Rat Pack lounge music, which later gave way to a wonderful band, crooned in the background as Adam and I relaxed with MegaYummo, @Mikochu, Katie's Cucina, and Droolius. Everyone either had the featured Big City Cosmopolitan or Pear-fect Martini, although Adam and I both preferred the Pear-fect Martini in the end. The Big City fell a little flat flavor-wise where the Pear-fect reigned with a nice tang between the lime, pear purée, and a dash of sweet Italian wine.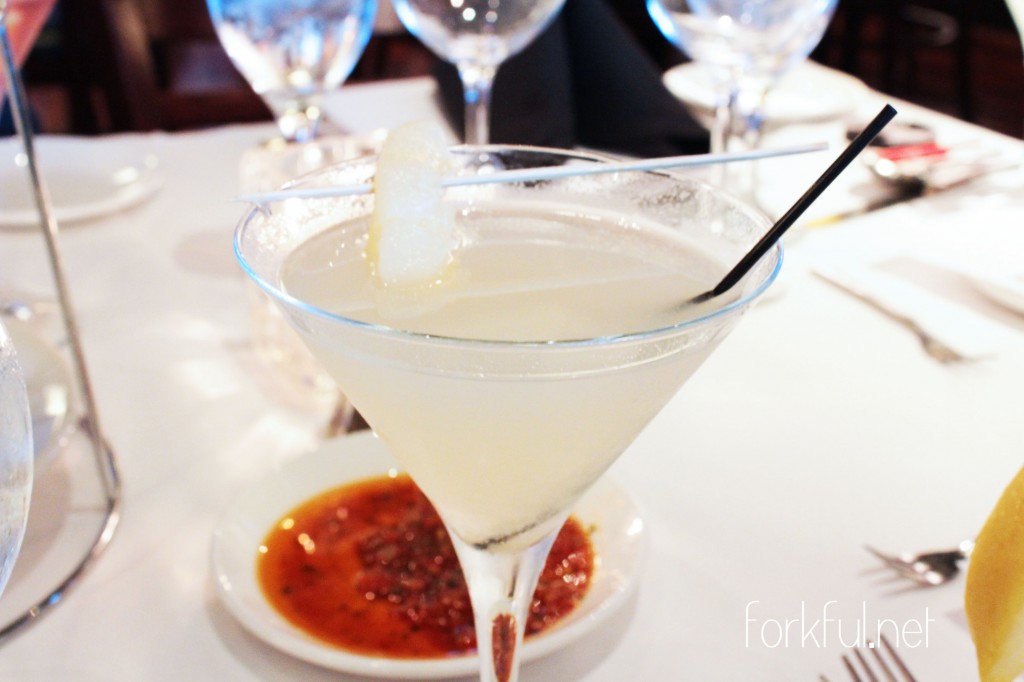 Assorted Flatbreads of the night were a sweet Italian sausage flatbread and a steak flatbread. The sweet Italian sausage version was topped with caramelized onions and mozzarella — the affect was light and satisfying. Its steak-covered cousin included a mild horseradish cream sauce, onions, mushrooms, and fresh arugula. I was a bigger fan of the sweet Italian sausage flatbread only because I was wooed by the generous meat and cheese toppings. The horseradish cream sauce on the steak flatbread could have had a little more bite, but the arugula complimented the strong steak and cheese flavors.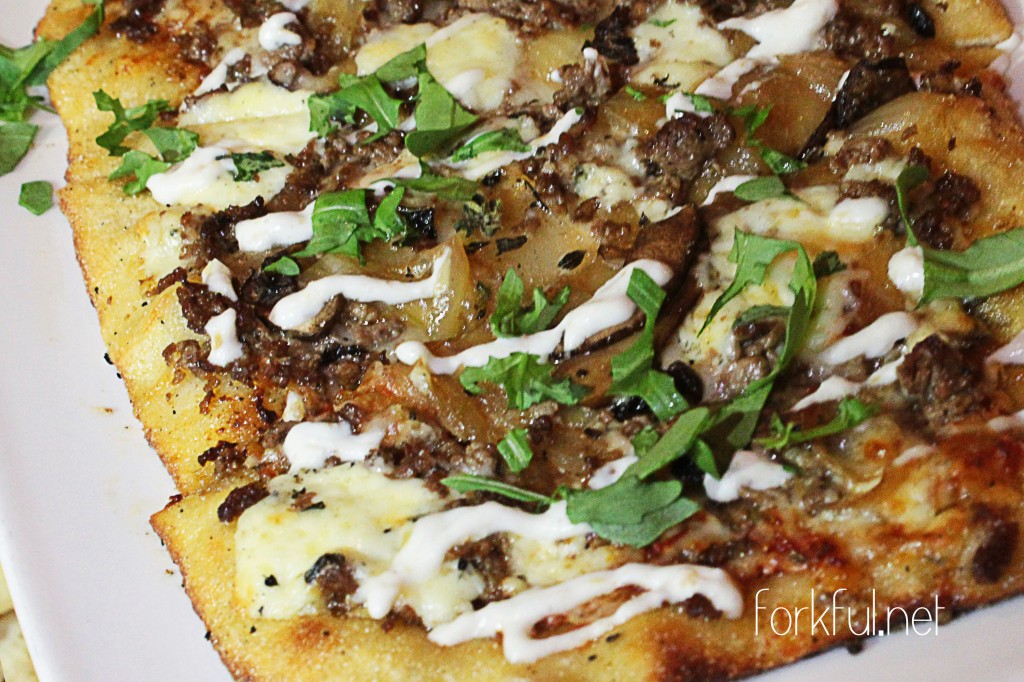 The Black Skillet Roasted Mussels made people's heads turn when waiters carried the sizzling plates high to neighboring tables. After a few flat breads, our mussels were set on a two-level platter. The top tier was full of tender, buttery mussels in a garlic wine sauce and the bottom tier was a bowl we used as a shell caddy. I dipped thick slices of the fresh focaccia in the buttery sauce as I savored the mussels. The chef mentioned the mussels were slowly simmered in fresh herbs, lemon, and butter until they opened and were basted in more sauce. There was also a Jumbo Lump Crab Cake served over a lemon chive aioli that was light a feather underneath a judicious layer of bread crumbs. My usual quarrel with crab cakes is that they're either oily or over-breaded to the point where the crab just doesn't taste like crab, but I'm glad Timpano's lump crab cake crushed my preconceptions in a good way.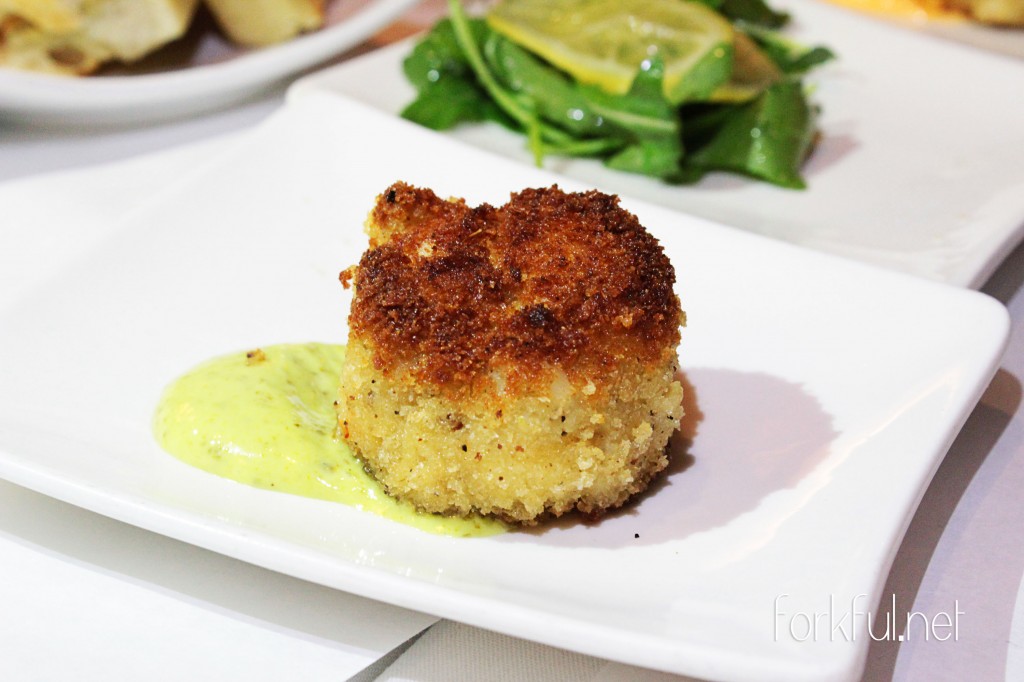 The richness of the mussels' butter sauce and breaded crab cake was offset by a refreshing plate of a Deconstructed Bruchetta. Plump, assorted heirloom cherry tomatoes were lightly tossed in olive oil, fresh basil, and a pinch of pepper. The tomatoes' plate mates were a generous cut of mozzarella and addicting, lightly toasted garlic ciabatta. There was also a sun-dried tomato spread for the ciabatta that reminded me of a pesto with a generous olive oil infusion. The salad and accompanying focaccia are indispensable antipastos — light and shareable with fresh ingredients that can be properly appreciated in this deconstructed version of an old favorite. The flatbreads, mussels, and salad preceded what was a heady Italian meal.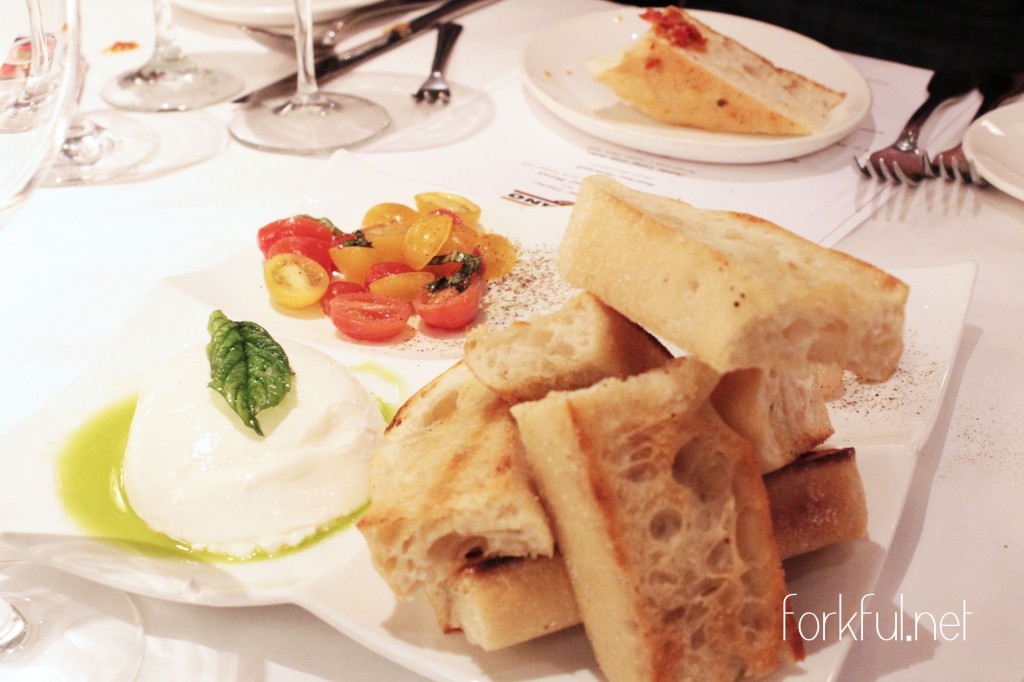 When I think Italian, I think pasta. While there was pasta at the table, there was also an abundance of fish and meats. Adam's Trio Mixed Grill of the Day was a six-ounce filet served medium rare with a scoop of garlic mashed potatoes and a four-ounce portion of Corvina. The herb-encrusted filet had a crunchy sear. The seared Corvina in a mustard cream sauce — my favorite of the night — surprised me with a buttery texture and mild flavor. The filet was served on a crisp bed of green beans. The mashed potatoes were lightly flavored garlic but were really just a stage for the filet. The waiter didn't ask Adam how he wanted his meat cooked, but medium rare filet was delicious. My Veal and Wild Mushroom Rigatoni was a hearty bowl of tender meat, mushrooms, and pasta. Both the veal and mushrooms had soaked in some of the roasted garlic cream sauce; just enough to compliment, not overwhelm. Now I'll be looking for braised veal on menus, since all my past experiences with veal have been tainted by terrible veal parmigiana.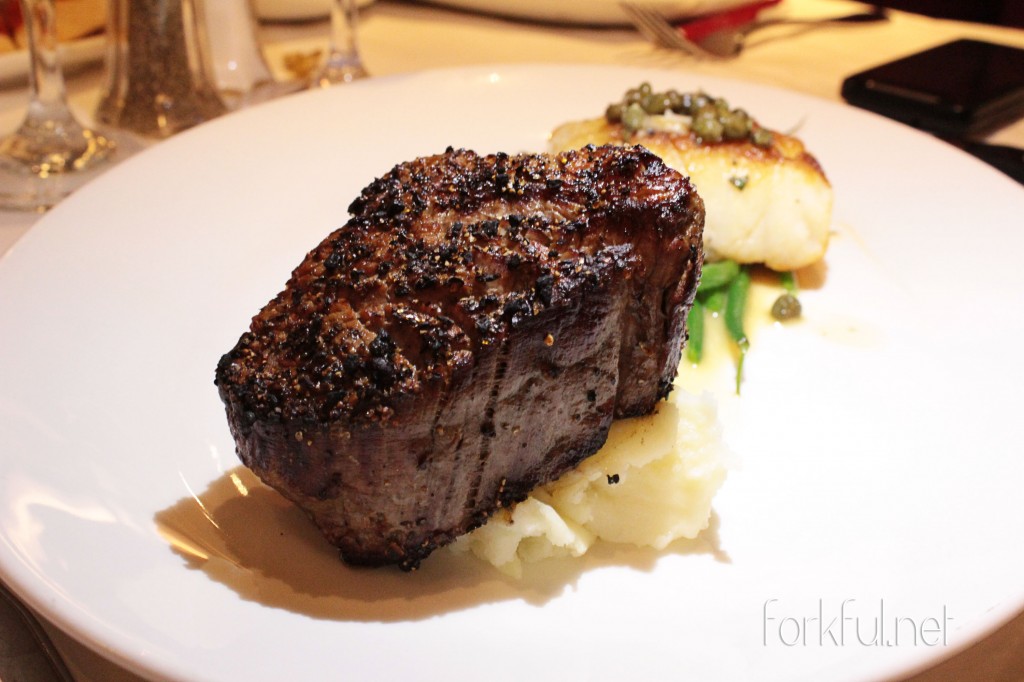 I was thankful for the shared servings of Tiramisu, New York Cheesecake, Chocolate Mousse Cake, and Crème Brûlée with Mixed Berries because I knew I couldn't handle any one dessert by myself. The Tiramisu was dusted with an espresso topping and studded with fresh strawberries, but the spongey cake was slightly frozen in places. The New York Cheesecake was consistently creamy and topped with berries and a light berry sauce — a great example of classic New York Cheesecake! The Chocolate Mouse Cake was oozing with rich chocolate and served with a side of vanilla cookies and cream ice cream, which was a welcomed break from all that chocolate! I could have used a little more ice cream just to alternate more between the chocolate cake. My favorite of all the desserts was the delicate Crème Brûlée with caramelized top and plump berries; it was simply light, sweet, and all I needed after such a heavy meal.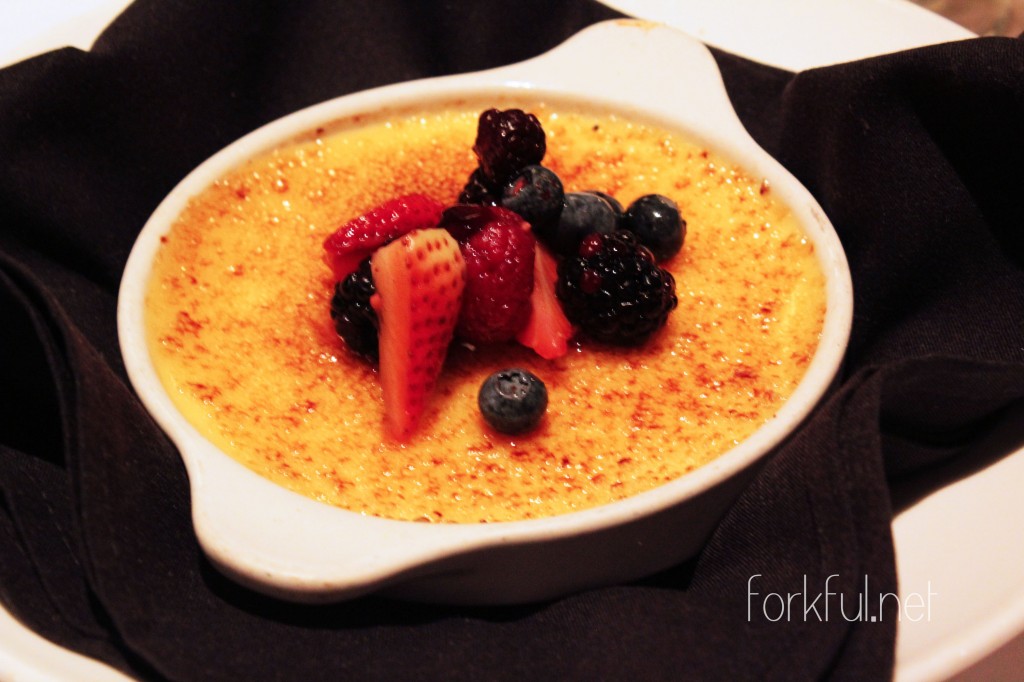 Timpano takes Italian standards and turns them around into still hearty but fresh ideas.  I was left feeling less bogged down with pasta and more like I had a unique experience. Now that you're curious about Timpano, I have a giveaway for a $25 gift card that you can enter by commenting on this post about your favorite Italian meal.  The giveaway will close the night of Tuesday, March 6, and the random winner will be announced on Wednesday, March 7. Good luck!
Edited 03/07/2012:
The entrants' email addresses were entered into Random.org, and after a quick click, the winner of the Timpano $25 gift card is James! Thank you to everyone who entered, and keep a look out on Facebook or Twitter for future giveaways. James, just email me your mailing address at marilyn (at) forkful (dot) net and that that $25 gift card will be sent your way soon.
Disclosure: The food and gift card mentioned in this post were paid for by Timpano Italian Chophouse & Martini Bar, although the views and opinions expressed in this post are purely my own. This post was not reviewed by the restaurant in any way.
T: (407) 248-0429