Orlando continues to be this ever-evolving melting pot of food. You can travel the full gamut of chain standard fare to locavore favorite in a heartbeat and few exits on Interstate 4, which is why if you're a taco fan know that Orlando's got your back. From corn to flour tortilla, traditional to Tex-Mex, this Top 5 list covers all the bases.
Border Grill Orlando Fresh Mex (Universal Studios Area)
Mexico City-style tacos aren't served in crunchy shells or buried in tomatoes and plastic cheddar cheese. Instead, the topping trifecta to look for is hot corn tortillas, cilantro, and diced white onions. Then, you have a touch of that crumbly, white cotija cheese. Finally, the heart and soul of it all—the protein. My go-tos are the savory carnitas (braised pulled pork) or al pastor (slow-roasted sliced pork) seasoned with love, tradition, and possibly achiote. Anoint these tacos with a squeeze of fresh lime and enjoy.
Camel Tow Taco Food Truck (Various Locations)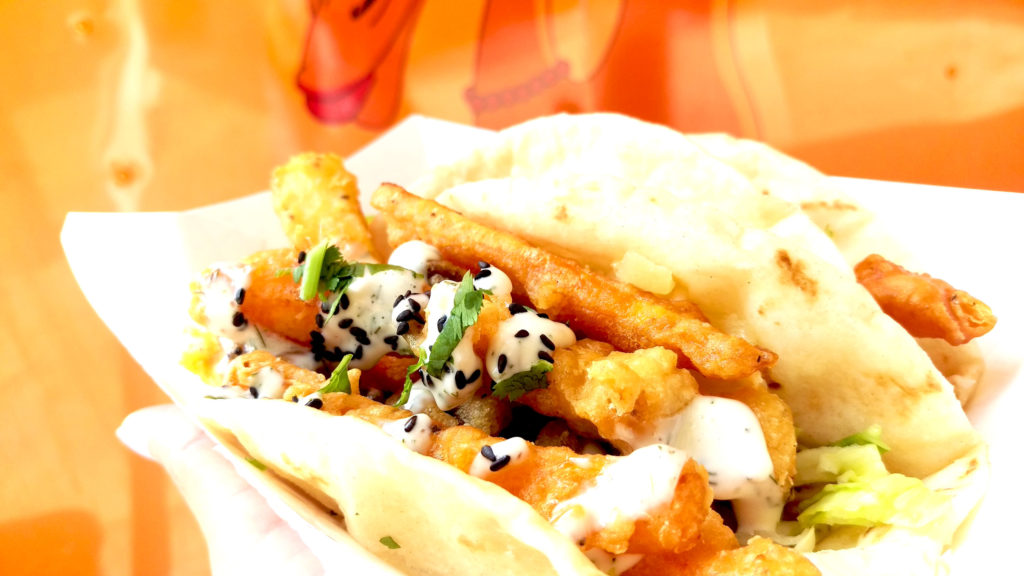 This little orange truck throws down some amazing tacos with a little East Asian feel served on flour tortillas. They also have original all-natural signature sauces; Junk in the Trunk (hot), Naughty and Nice (medium), Sweet & Innocent (mild). The tastiest, most-exciting taco on the menu here is the vegetarian taco. Tempura portobella mushroom, zucchini, and sweet potato are layered with sweet corn salsa, pineapple salsa, and dill sauce. A sprinkle of cilantro and toasted black sesame seeds later, I decimate this taco and its buddy with gusto. Yes, 2 tacos are a must. Change it up with the tempura chicken taco, which has its own chili garlic sauce.
Tako Cheena by Pom Pom (Mills 50)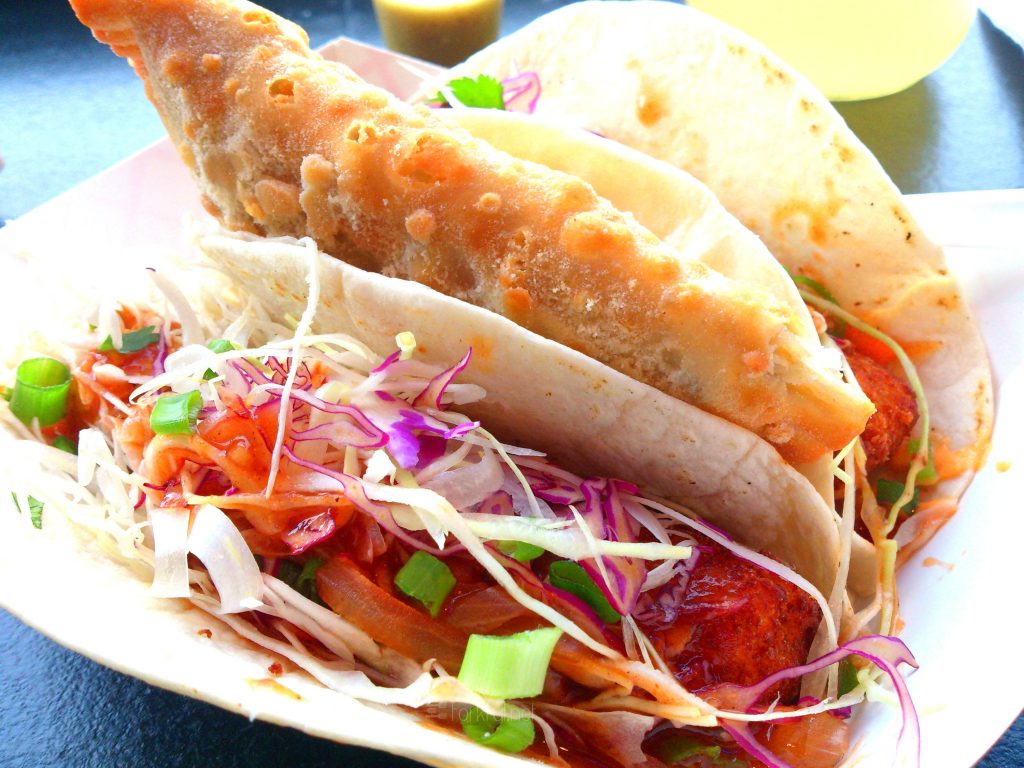 Every time I try something new at Tako Cheena, like their Tom Yum Mojo Shrimp Tacos or the Indian Butter Chicken Burrito, I always crave my favorite Panko Crusted Cod Tacos. It's the crunchy of the fried cod, the sweet and sour onion sauce, and spicy mayo with crunchy scallion. Even the sweet Chinese sausage hot dogs with kimchi don't stop me from wanting to crunch through another Panko Crusted Cod Taco. There have been at least two solid weeks when Mr. Forkful and I jetted back to Tako Cheena for these cod tacos every other night—I can't convey how much of a must these tacos are right now. Bonus: Dessert peach ginger empanadas smothered in caramelo.
Pig Floyd's Urban Barbakoa (Mills 5o)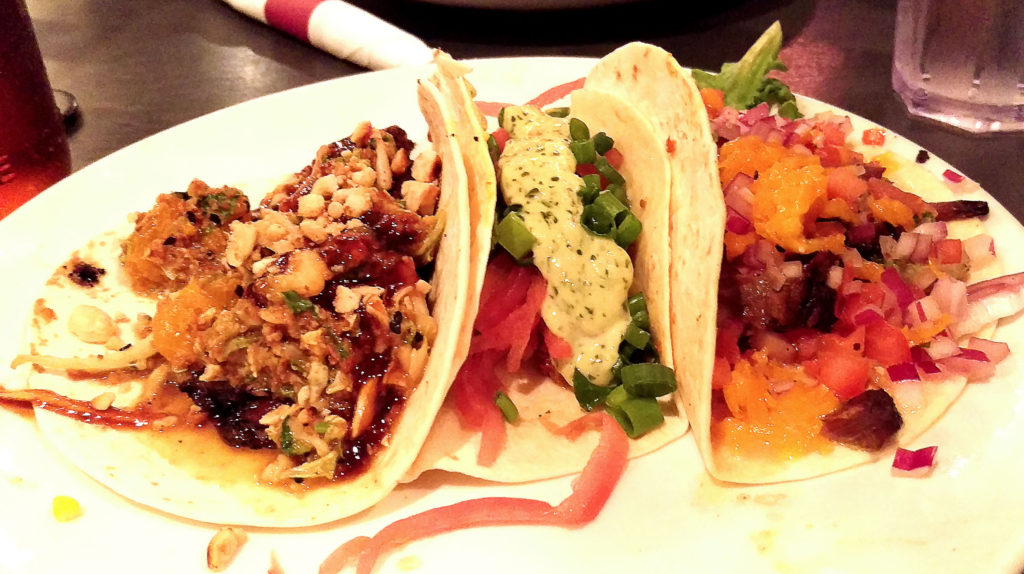 The pork belly and beef brisket (La Vaca Tahkaw) are the first two tacos to have at Pig Floyd's. The pork is smoked and grilled with a touch of dragon sauce and a nice citrus peanut slaw crunch. I'm not a peanut fan, but these tacos make me throw personal preference out the window. Plus, brisket on a taco pretty much owns the night at Pig Floyd's. Don't forget a side of the Mexican street-style corn on the cob smothered in cotija cheese, chili, and lime.
Tacos El Rancho (Orlando International Airport Area)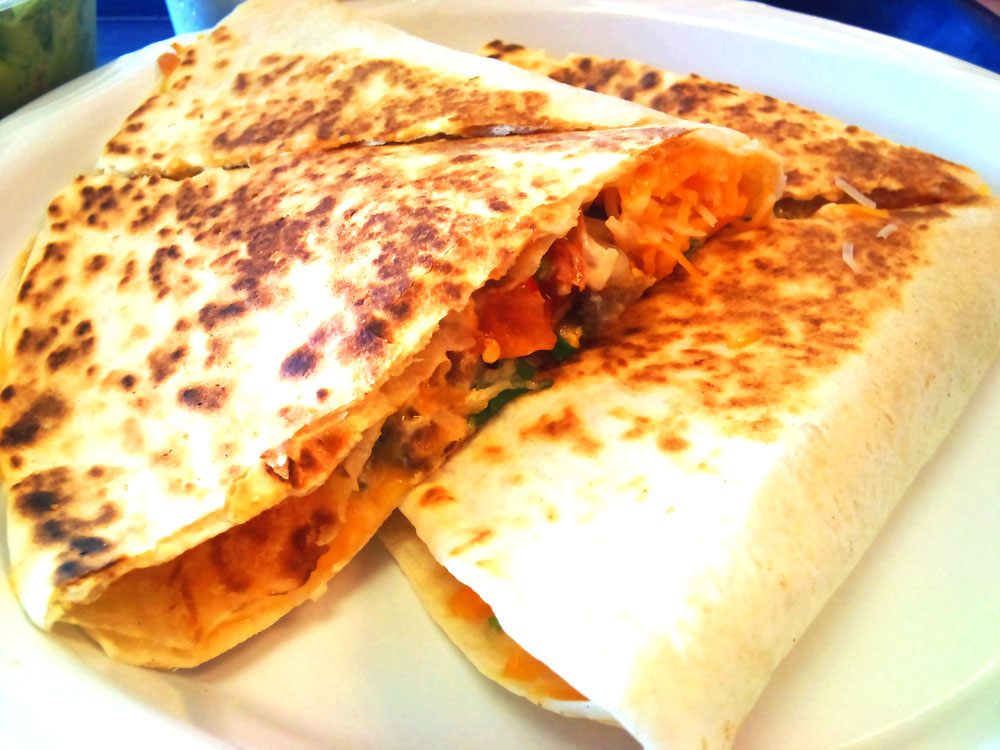 Okay, so I'm cheating a little here by listing the Quesadilla de Lengua. Yes, lengua is marinated beef tongue and it's consistently wonderfulat Tacos El Rancho. Just think savory shredded beef partying together with melted cheese, cilantro, onions, tomatoes, and the rest. Maybe even drizzled with a little sour cream. I believe you can fill your crunchy corn or soft flour tacos with lengua, as well as an amazing assortment 11+ other proteins including chorizo, pastor, and grilled tilapia as well as tinga—spicy, smoky chicken goodness.
Gringos Locos (Downtown Orlando)
Double Ds, which are these unapologetically Tex-Mex double-decker tacos. Let me explain. The holy triumvirate here is the soft flour taco covered in melty queso and wrapped in a crunchy hard taco. My basic order are 2 Double Ds—a 7-hour slow-roasted pork and fresh chicken—with the usually toppings like pico de gallo, sour cream, lettuce, and cheese. After a pub crawl or a night of bar-hopping, the best advice I can give is don't mess with the basics. Just ride the boozy taco wave, not pictured.