NaraDeva Thai Restaurant is a welcomed change from all the chain restaurants packed into the Mall at Millennia area. The chains are a decent fast food option for harried shoppers, but they don't hold a candle to NaraDeva's unique, healthier options since a lot of sodium and other hidden calories hitch a ride in ready-made fast food. NaraDeva offers outdoor seating and ornate, Asian-inspired interior seating perfect for a romantic night out or a soothing midday break from the busy Millennia area.
Traveler Foodie and the owners of NaraDeva created what I can only describe as a culinary odyssey of Thai food for local food writers. The herbs and vegetables were crisp and fresh, and spicy really meant spicy! I was also formally introduced to my new favorite cornerstones of Thai sweets during this odyssey — coconut cream sauce and pandan — but luckily I had a chance to try more than a few things before the sweets.
The Shrimp Rolls are a solid choice to open any meal at NaraDeva. The wrappers were fried, light, and crispy with a surprising lack of oil. I was a big fan of the punchy Thai herbs layered in these delicate wrappers, and the sweet chili sauce balanced both the savory flavor and fried aspects of the rolls. The Steamed Dumplings were comfortingly similar to what I remembered from other Asian restaurants, and were served with a sweet and sour soy sauce and light peanut topping. The light and flaky Crispy Wontons reminded me of Puerto Rican empandas — the filling was a mix of savory pork and chestnuts. The Chicken Satay was also very familiar, but the coconut cream and herb marinade was what made these skewers stand out. There was a subtle sweetness to the flavorful crust on the chicken, which was enhanced with a thin dollop of cucumber dip. Peanuts and I have never been friends, so I avoided the peanut sauce, but the appetizer didn't feel lacking in any way sans peanut sauce.
Aside from the Shrimp Rolls and Chicken Satay, another appetizer I would gladly devour all by myself was the Crunchy Shrimp Salad. The mixed vegetables underneath the battered shrimp were nice, but were largely ignored over the shrimp themselves. The plump shrimp were evenly coated in a sweet, housemade Thai salad cream sauce, which wasn't as tangy as I expected from the menu description, but was still addictive. I would gladly have a smidge of extra sauce on the side to dip the shrimp — the cream sauce was that good. If anything, the salad greens underneath the shrimp were good palate cleansers between savory bites of other appetizers.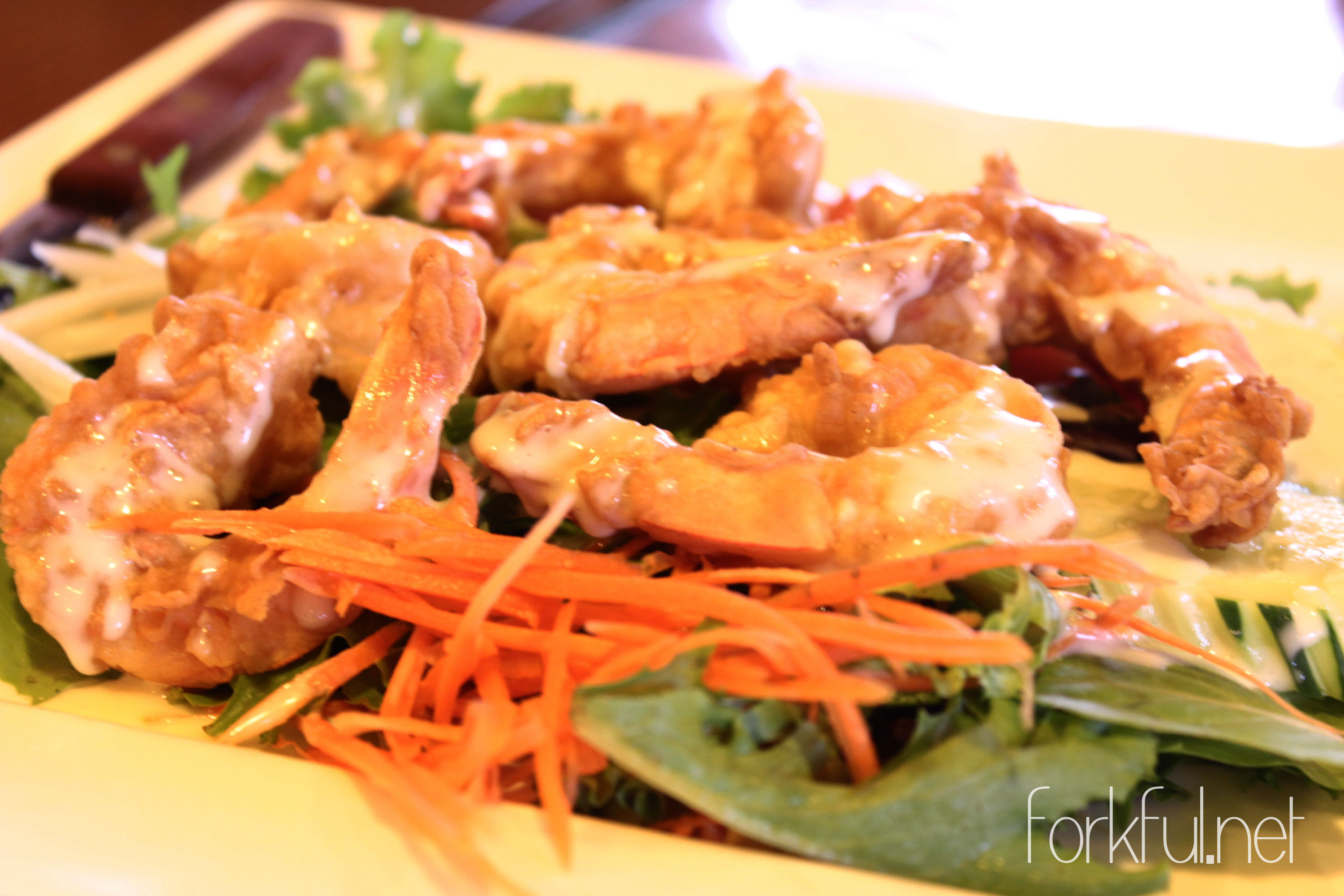 At this point during the meal, I was glad to be surrounded by hungry foodies because there was no way I would have been able to eat anything else without their help! We refocused our efforts on a few plates of Laab (Minced Spicy Salad), which was minced pork served with onions, shallots, and mint leaves. The spicy version enamored me more than the non-spicy version even though only the pork, lime, and mint leaves were the only flavors my burning taste buds could register by the time the plate was empty. Again, the crisp vegetables on the plate were a welcomed palate cleanser, but I was happy to feel like I was having some genuine semblance of the fabled "Thai Spicy" level of heat.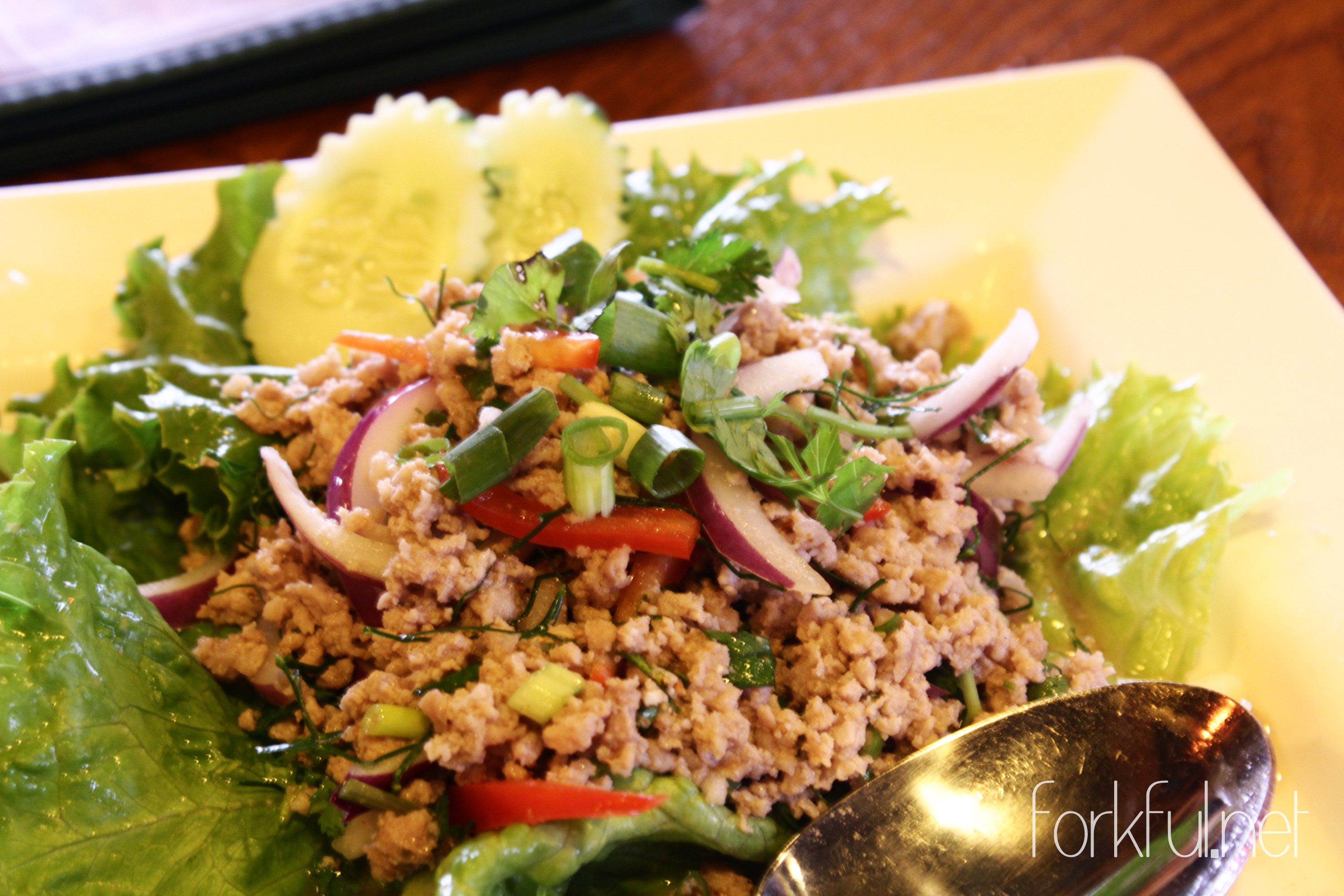 The Classic Combo with Coconut Pandan Rice, Thai Jerky, and Papaya Salad had its high points, and I would file under "Glad I Tried Once," but I wouldn't order this entrée again. The coconut pandan rice was an instant high point, which I will want to say at least five more times when I talk about the desserts. This rice had the green hue, probably from the pandan, was served warm, and had an almost creamy, sweet finish. The Papaya Salad and Thai Jerky were the medium-to-low points of this entrée. The papaya salad involved some juicy long green beans, but was otherwise a little on the bland side. The Thai Jerky had a huge savory kick, and reminded me of Korean boolgogi barbecued beef, but the smokey, savory flavor was overpowering only after a few bites.
The Crispy Duck Salad won me back over from the Classic Combo. Of course, my heart always yearns for a carefully roasted, crispy duck of any kind, so I was keen to put a flavor story to the menu item for this dish. The outer later of the duck was crispy and evenly coated in the chili lime sauce, and the flesh was fall-apart tender. There were so many layers of flavor in this salad, from the fresh cilantro and onions to the citrus notes and scallions, that I'm glad I didn't have the spicy version of this salad because I was able to fully appreciate all of the ingredients that much more. The Deep-Fried Whole Snapper with Sweet Chili Sauce was an exciting mix of savory crunch and garlic, but I was having a hard time cutting through all the boney bits to enjoy the juicy innards, so I was happy to have MegaYummo come to my rescue! The Snapper was served with Jasmine rice and could easily be a delicious meal for two accompanied by the sour, minty splash of the Laab or a side of Coconut Pandan Rice. Soft Shell Crabs also made an appearance at the table — they were lightly battered and fried whole. One of the owners explained that the small crabs are caught young before their shells solidify, so the crabs are easy to consume whole when served deep-fried.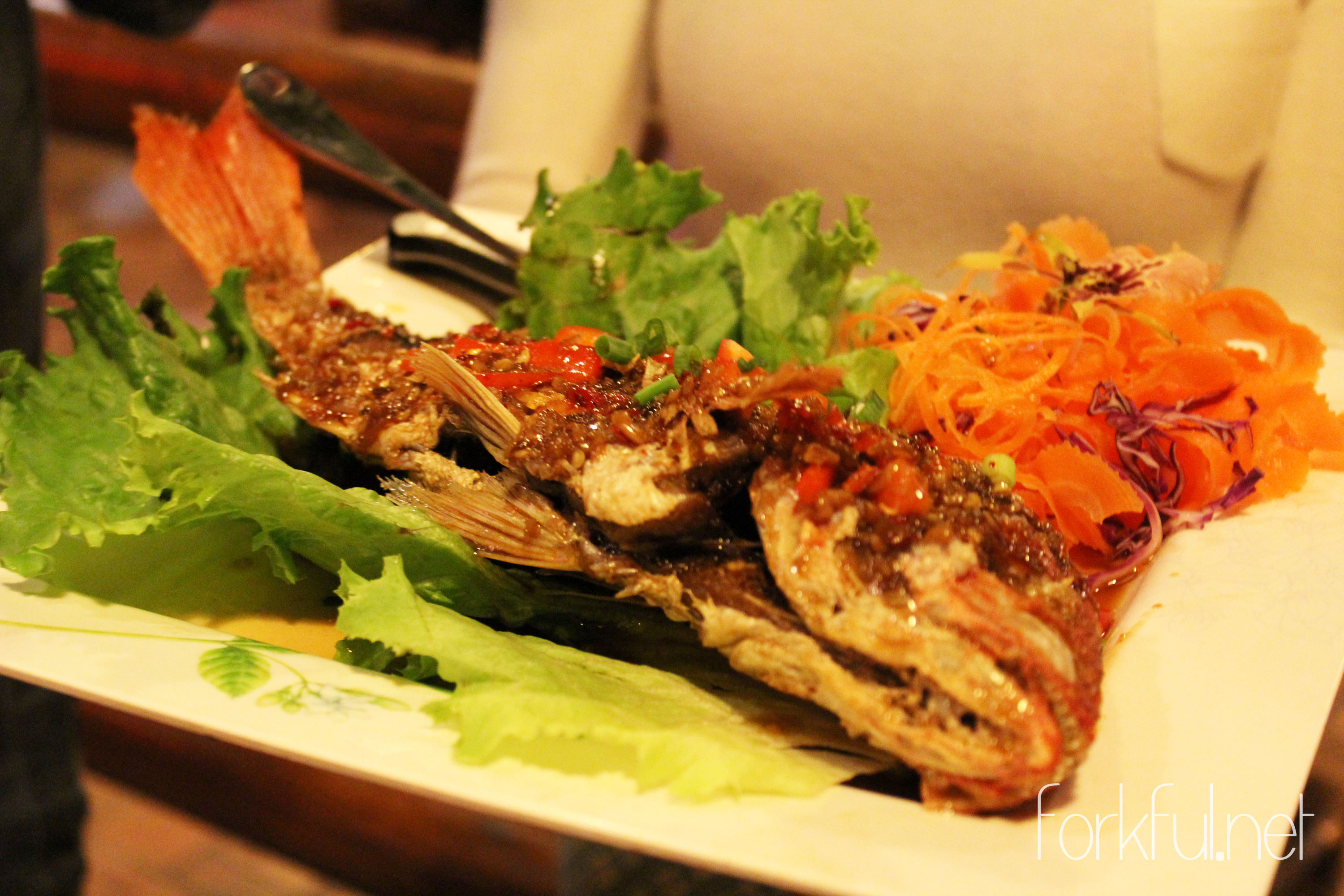 If NaraDeva is anything, it's a master of portion sizes, which finally brings me to the desserts smothered in heavenly coconut cream sauce. I was ecstatic to see that "Exotic Desserts" on the menu did not just mean a list of deep-fried dessert items like cheesecake. Sure, a deep-fried banana does make an appearance, but could not hold a candle to the Black Sticky Rice with Coconut in Palm Sugar Caramel Topping. This dessert made the biggest impression because I don't like coconut, yet, I loved this dessert! The coconut was more of a complimentary flavor to the sticky rice and caramel topping. Yes, the rice was a bit chewy, but in a way that I could enjoy every sweet bite. I had mixed feelings about the steamed Thai Coconut Custard — the cups surprised me by being more savory than sweet, and are definitely an acquired taste.  The Thai Doughnuts with Pandan Coconut Custard Dip were lightly dusted with sugar and fresh out of the frier. To me, the doughnuts were a pillowy, sugared delivery method for the fabulous pandan coconut dip. Happily, all the desserts were just the right size to provide just enough of a sweet finish to our dinner.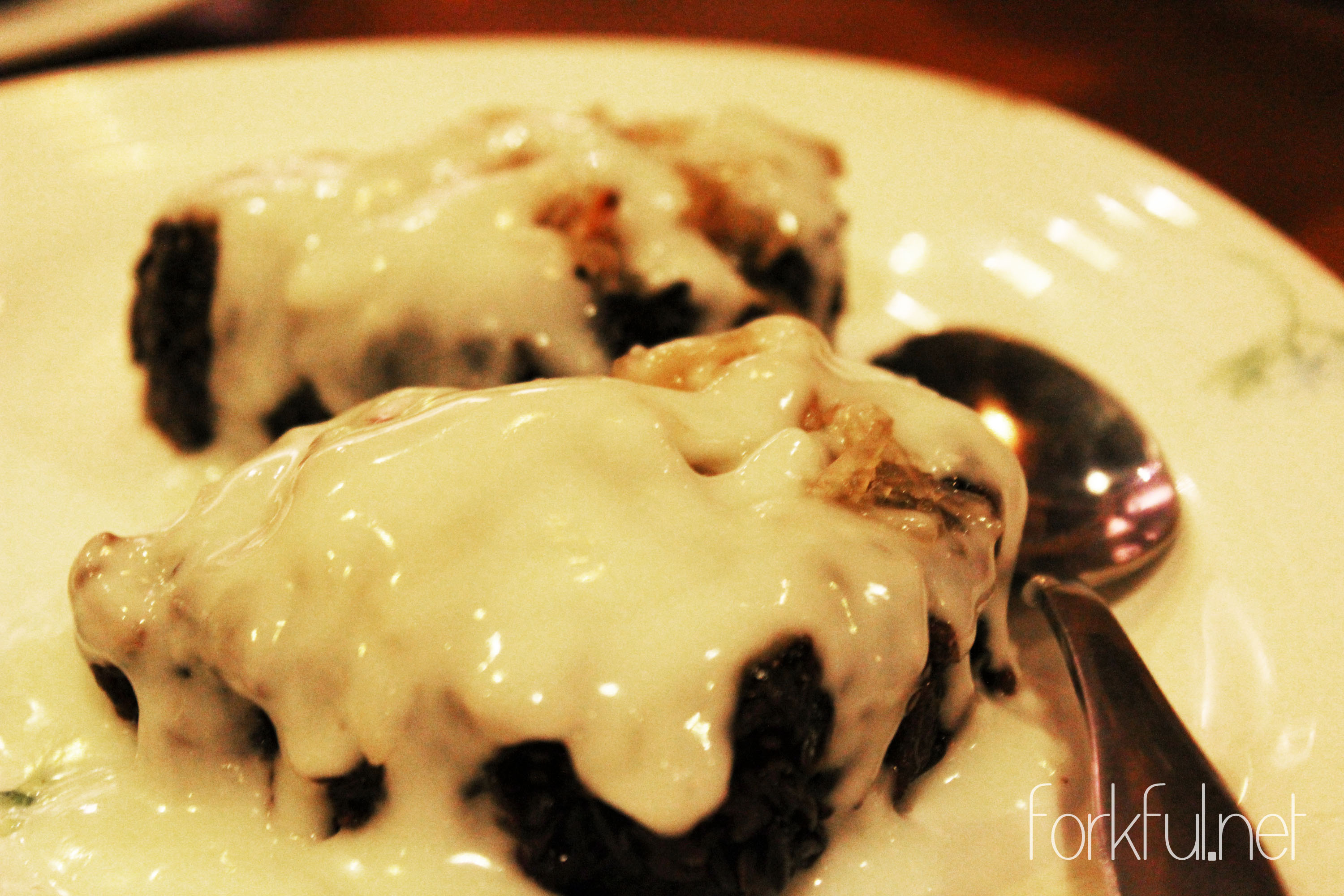 Disclosure: The food mentioned in this post was paid for by NaraDeva Thai Restaurant, although the views and opinions expressed in this post are purely my own. This post was not reviewed by NaraDeva Thai Restaurant in any way.
NaraDeva Thai Restaurant • Menu • Facebook • Twitter • Google Map
T: (407) 903-0300
My highlights from this Thai cuisine odyssey are clear, but my hope is always that readers try something new and also find their own favorite mainstays. The generous owners of NaraDeva Thai gave me a $30 gift card, which I will give away to a random Forkful reader who:
• Likes the Forkful Facebook Page.
• Comments on this post about the NaraDeva Thai dish he or she is most looking forward to trying first.
The deadline to enter this giveaway is Friday, November 4. The winner of the giveaway will be announced on Saturday, November 5, through this blog post, Facebook, and Twitter. Good luck!
Edited: 11/05/2011
The winner of the NaraDeva Thai $30 Gift Card Giveaway is Angel! I will get in touch with Angel via email soon. Everyone's email address was entered into Random.org, so entrants can enter their email addresses into the widget below for verification. Thank you to all who entered the giveaway, and check back for future giveaways.