Disney, Food, and Knowledge
Forkful launched one year ago this month with one ongoing goal: to continue to grow and learn about writing, photography, and sharing the food experience. I just missed last year's Food Blog Forum, but I was able to attend this year's event.  Over 100 eager food bloggers converged on the Walt Disney World Resort for one weekend during the Epcot Flower and Garden Festival. The crowd ranged from recipe developers, food photographers, and food stylists to marketing representatives all ready to share and hone their crafts.
Julie (The Little Kitchen), Todd and Diane (White on Rice Couple), Scott and Jadon (Steamy Kitchen), and Dawn (DawnViola.com) partnered with a team of sponsors (Food Blog Forum 2012) for a weekend of presentations, food, roundtable discussions — did I mention food? There were also some also some fab giveaways and goodie bags — Adam and I had more than a few draft picks for the different flavors of OXO caramels.
Aloha! And a Grand Floridian Welcome
Check-in at the Disney's Polynesian Resort was a breeze with "alohas" all around. I resisted a good jam session on the in-room bongo nightstands, took a minute to hook into the free Wi-Fi, and then tumbled around the room to get ready for the welcome reception at the Disney's Grand Floridian Resort and Spa. I can't say heels were a stellar idea after a brisk five to ten-minute walk between the two resorts, but I forgot about the heels once I saw all the foodies to meet at the check-in table. There was punch, an abundance of hors d'oeuvres, and even salad trees swaying in the breeze. Yes, trees of salad! The sweet Fire-Roasted Corn and Vegetables were served in a mini cocktail glasses suspended from a wire sculpture tree.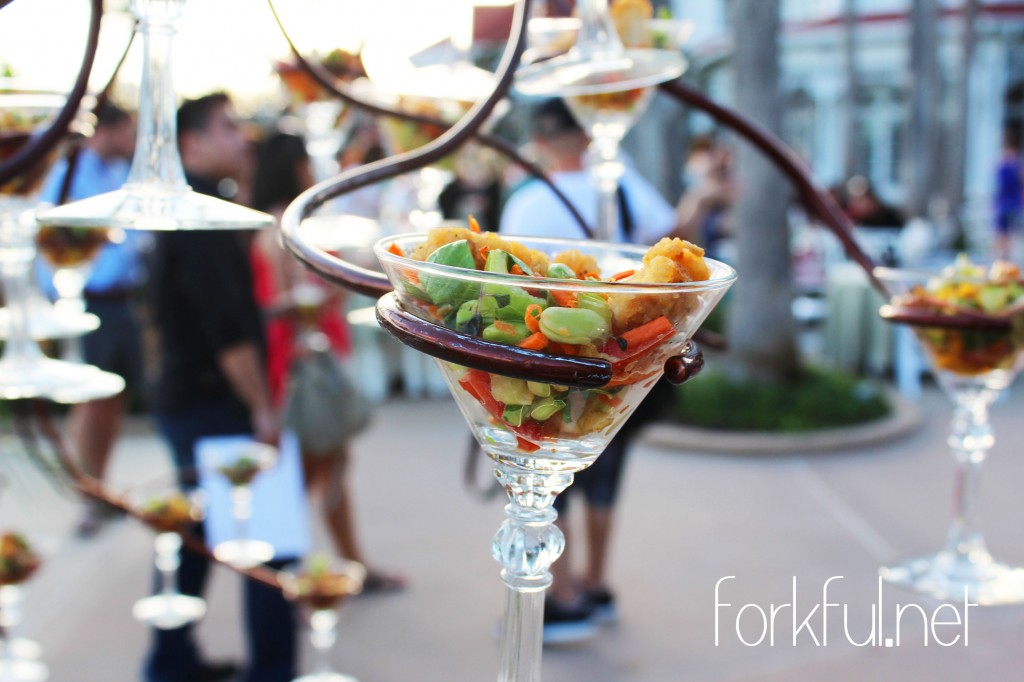 Blog talk, most anticipated presentations, and roundtables sign-ups co-starred with some intriguing mushroom caps in green tea-lined cones — Mushrooms in Stilton Green Tea Cones. The mushroom caps were herbed and possibly marinated, and the mint leaves set off the semi-sweet green tea coating. I'm not green tea's biggest fan, but the coated waffle cone was a fun flavor twist. The bites — go ahead and judge but I had at least three heavenly bites — of Smoked Gouda with Caramelized Onions was an instant hit as it melted into a sweet and savory addiction.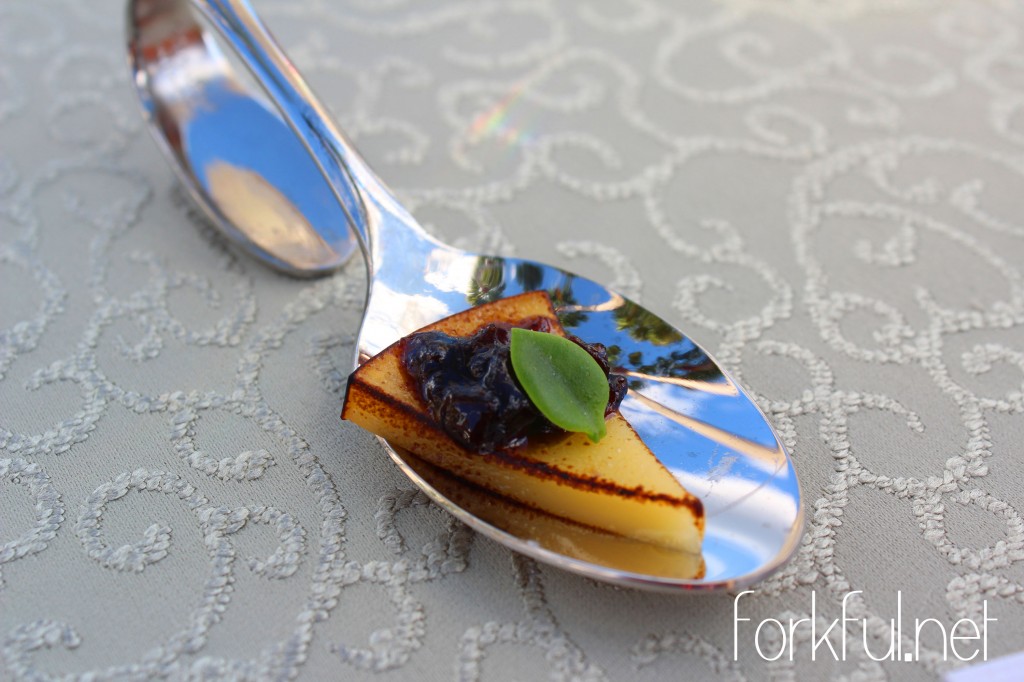 The real dessert almost got away while I met a few recipe developers, photographers, and foodies like Sarah (Sarah's Cucina Bella), PeeDeeFoodie (PDFoodie), Kathy (Healthy Slow Cooking), Kiran (Kiran Tarun), Melissa (Dash of East), and Andy (Eating and Drinking Around WDW)! Cast Members were speedily packing Chocolate Crème Brûlées, Dessert Shooters, and these little Raspberry Espresso Cakes onto trays for transport, so I dove in and saved a few for myself. My favorite? The mini raspberry espresso cakes. The whipped topping was just a smidgen denser than air and dissolved instantly after the first bite.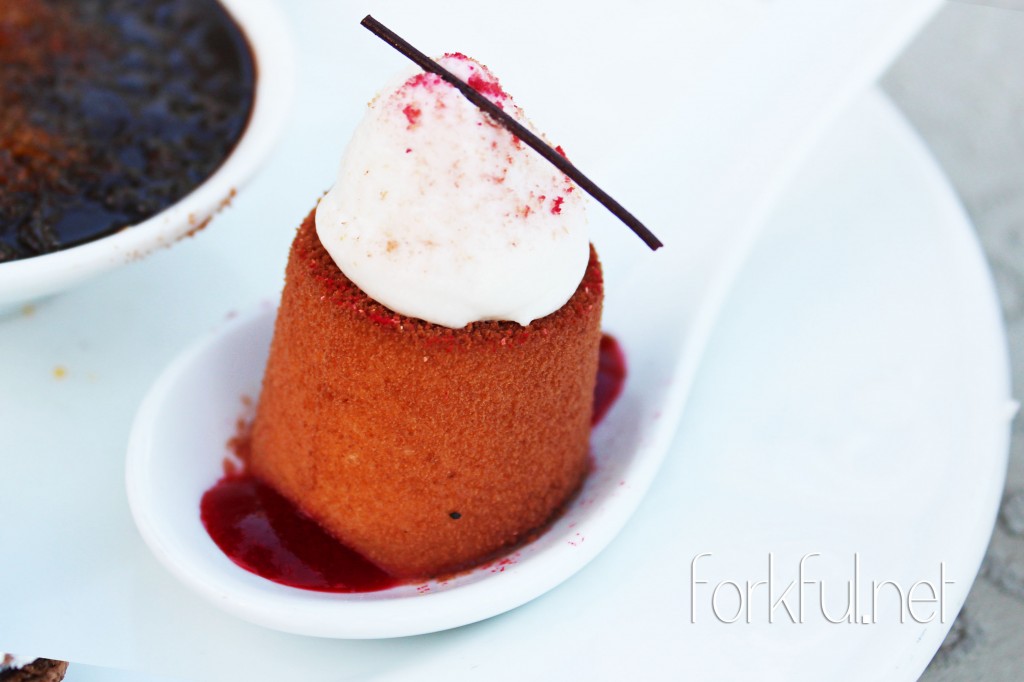 Saturday was forum day, and it came and went fast! Pearleen (MegaYummo), Ricky (Tasty Chomps), and I favored a quick carpool to Epcot over waiting for a bus or monorail. We detoured for a moment to look at a few of the Epcot Flower and Garden Festival topiaries. The Fantasia centerpiece in front of Spaceship Earth was nothing short of spectacular! The fact that Fantasia is one of my favorite animated films didn't hurt either.
Sponsors welcomed attendees to the Odyssey, a restaurant-turned-event space inside Epcot just before the Mexico Pavilion. I expected a continental breakfast, but instead there was a beautiful breakfast buffet spread of baked treats like potato leek biscuits and warm Scones to Bangers and Mash, Frittatas, and Poached Eggs. I'm a savory kind of girl endlessly fascinated by potatoes, so the bangers and mash were instantly on the top of my list. The sausages and mashed potatoes were standard fare, but the crispy onions on top were a nice touch. I inhaled my frittata and scone while presentations started.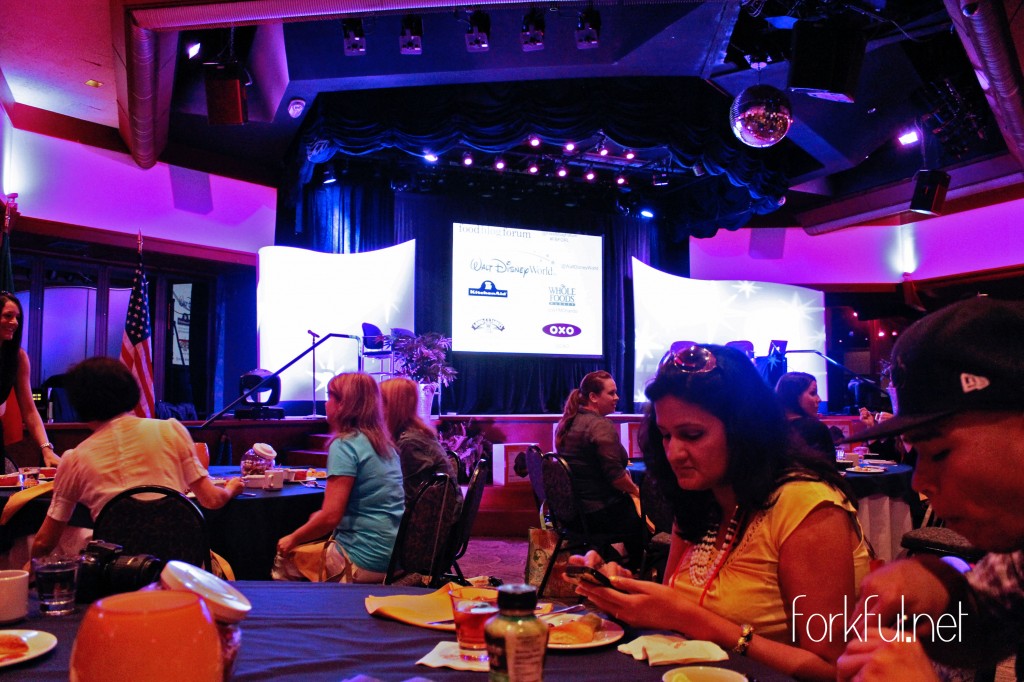 Panels and Sessions: The Highlight Tour
Scott, the forum's toastmaster, transitioned attendees through some powerful talks. My highlight tour will start with Todd and Diane's primer on the importance of natural light and communicating, not only food stories, but people's stories through photography was inspiring. They ran through approaching photography for a feature versus recipes. There were some genius little changes to dozens of milkshake photos, like the texture of a linen, a colorful straw, or extra milkshake foam that could make a photo pop. Imperfections, colors, and patterns were embraced and adapted to suit any given subject.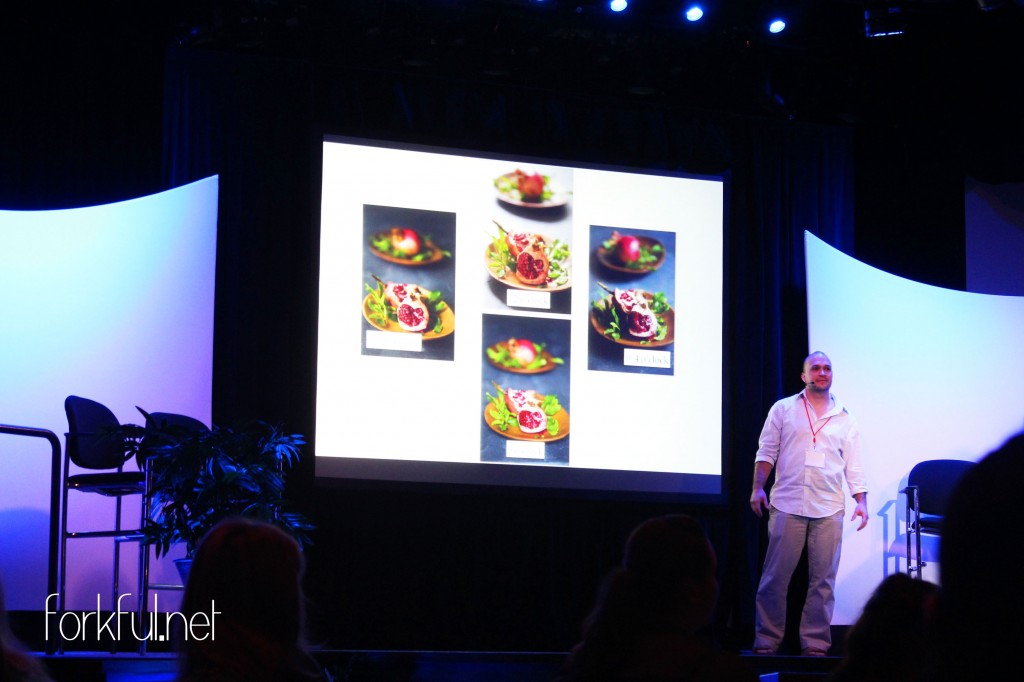 Another stand-out session was PRspectives, which was more in-depth than I expected and got question gears rolling for the roundtables later. Jaden (@SteamyKitchen), Rachel (@KitchenAidUSA), Arianna (@OXO), and Thomas Smith (Disney Parks Blog) For example, how to interpret demographics, Facebook stats, and levels of reader engagement into digestible bits that can be easily presented to brands.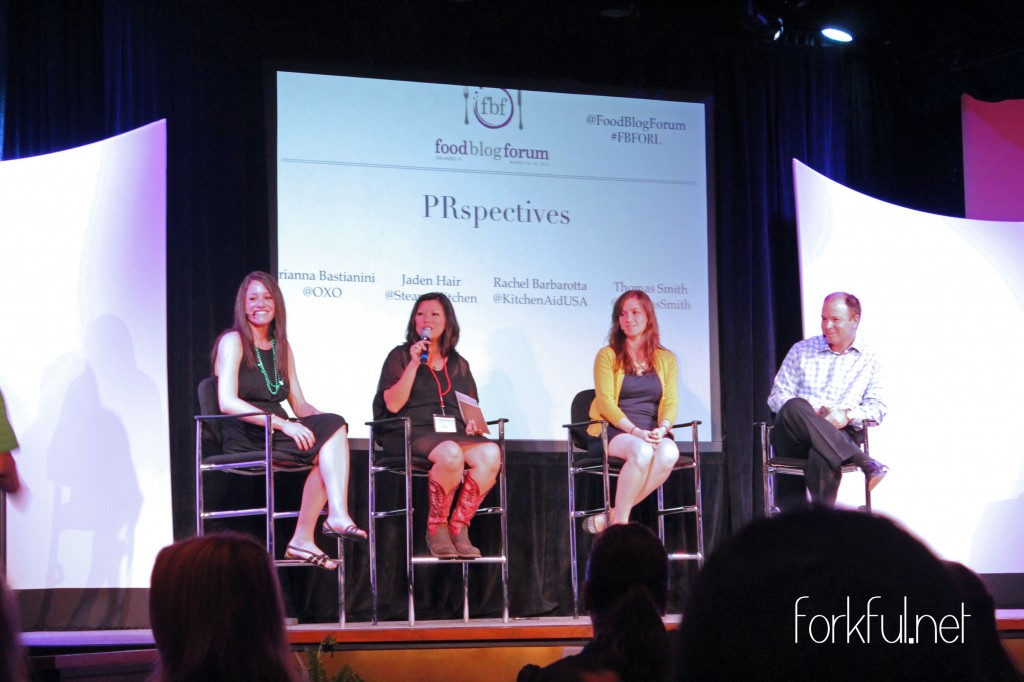 David Leite went professorial with his talk, "Writing Bigger, Badder, More Badass Food Posts," and twelve steps to better writing. The best part was no changes were required to following the steps, just additions and improvements. Leite touched on an emerging theme throughout the forum: Find your voice. The term "blogists" was tied to being self-referring memoirists, and much of the same criteria for writing fiction and non-fiction were applied to food blogging; theme, symbolism, plot, and setting just to name a few. Oh yes, and Leite enacted a ban of the word "delicious" on all food blogs for all time. All time!
Part Deux: Foodie-ing Harder
There is too much Food Blog Forum for one post, so the second part will offer a look into a mini Party for the Senses in the form of lunch at the World Show Place, roundtable highlights, and an Illuminations dessert reception. Part two will be live on Forkful around next Friday!