A few months ago I had my annual nerd-out at Megacon, the largest comic book convention in the American southeast. There were tons of awesome cuddly plushies, celebrities, and cosplays! Plus, a fascinating panel about the iconic Star Trek episode "The Inner Light" —  Next Generation fans will understand. There was also some unexpected nerdy noms from the ladies of Wicked Confections, which is based in Fort Lauderdale, Florida. The most adorable ones that Mr. Forkful and I couldn't resist were the Tardis (Blue Velvet Cake with White Chocolate), ST:TOS Red Shirt (Chocolate Cake), Golden Snitch (Butter Beer Cake), and Rainbow Dash (Tutti Frutti Cake). Who could resist the irony of eating the Red Shirt Cake Pop first? And a My Little Pony character confection has never tasted so good.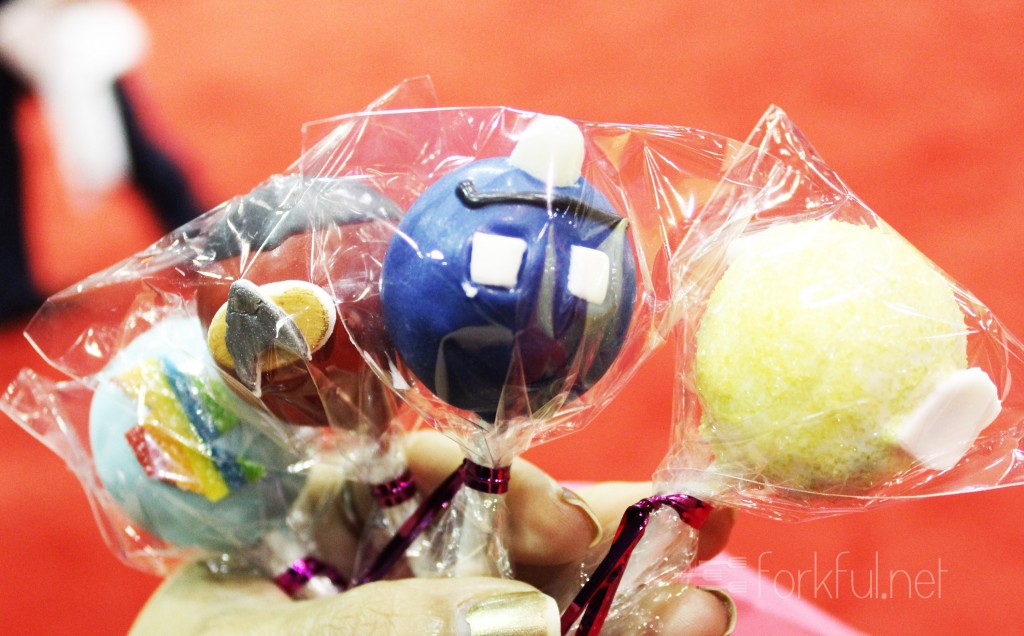 Local Orlando food trucks were also there to feed the hungry nerd hoards, and this pod turned out to be one of the best special event food truck pods. Curbside Chef, Stay Calm Cupcake, and The Pastrami Project were there to save the day and they didn't even need capes. First on our hit list was the Red Velvet Pancake Skewer. The pancakes were decadent and fluffy, especially since they were sprinkled with spiced candied pecans, dusted with confectioners sugar, and drizzled with maple syrup. The calories don't count if its breakfast or brunch food right? Besides, the protein from the quail egg makes the skewer and well-balanced breakfast-for-dinner.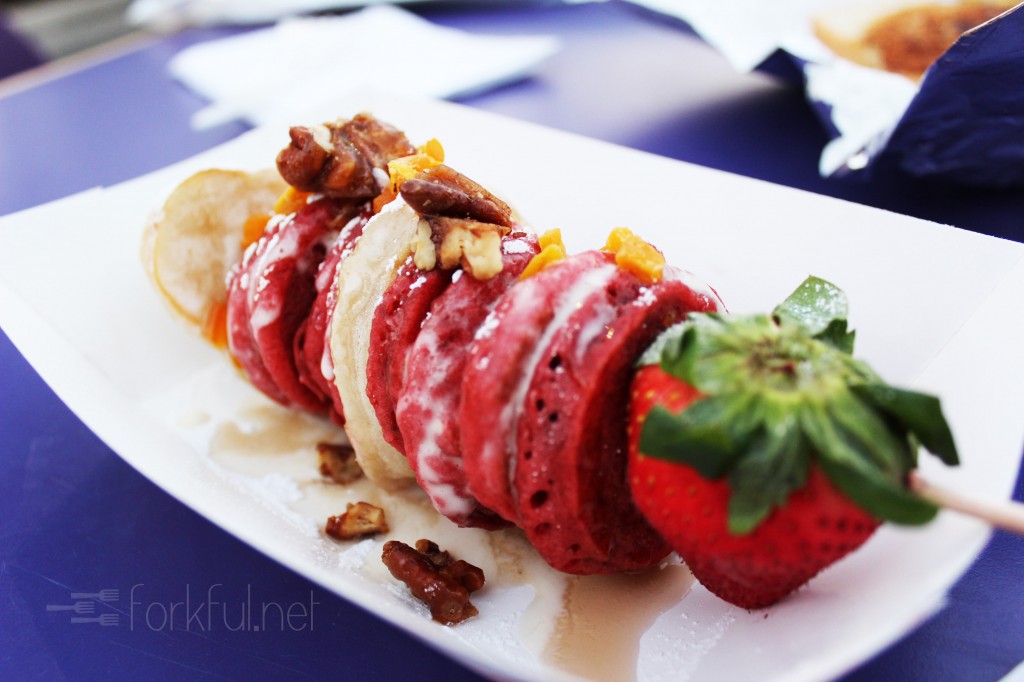 The pancake skewer was joined with a toasty Pastrami on Rye from The Pastrami Project, one of the newer Central Florida food trucks offering a selection of classic New York-style hand-brined, smoked, and cured meats and seafood. No preservatives and everything is hand-cut to order; The Pastrami Project has set a high bar for other local sandwich trucks. The messier the sandwich, the more delicious it is, and that belief had never been truer as with this fabulous pastrami sandwich. The pastrami portion was made from a lean brisket, hearty, and nicely spiced. That buttery rye with spicy brown mustard were the icing on this cake.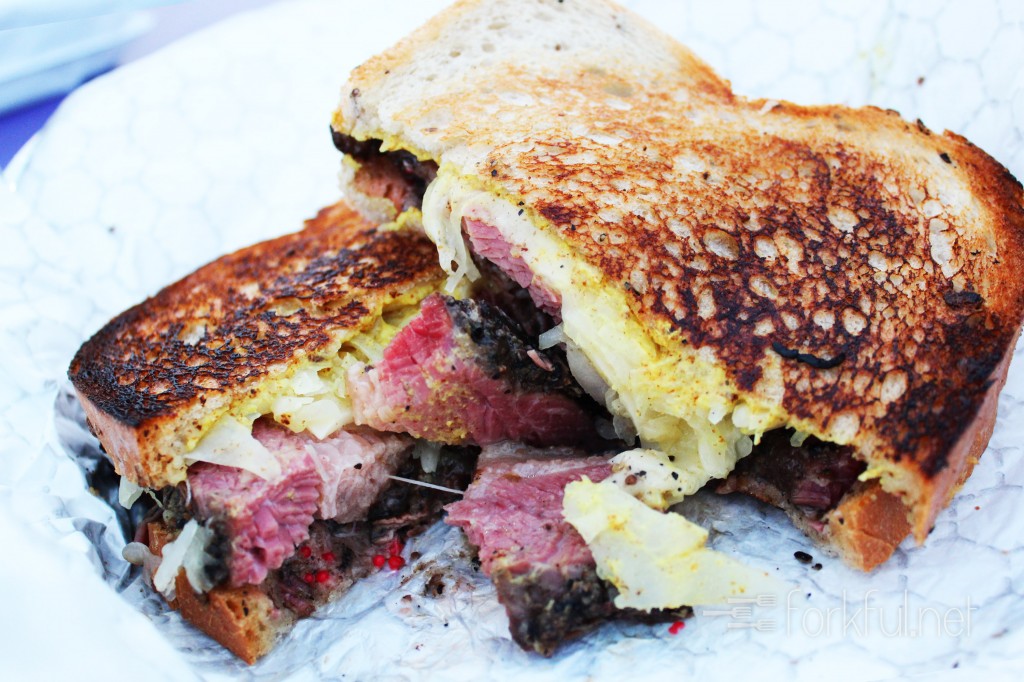 Speaking of cake, our second day at Megacon ended with a Key Lime Cupcake at Stay Calm Cupcake. The cake was tangy, which was probably from the touch of lime zest on top of the vanilla frosting. This was a gorgeous little cupcake with an awesome tart kick, which is the epitome of a key lime pie. The frosting we didn't eat with the cake, we scooped up with the graham cracker — win-win situation.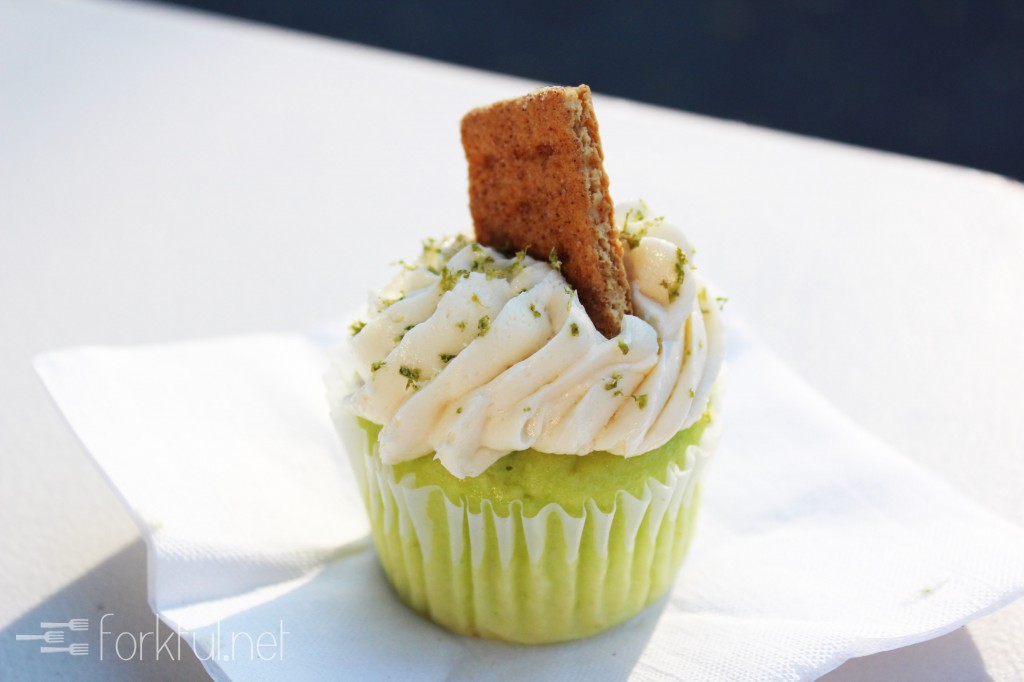 We also had the Bird's Nest we didn't have room for during the first night of Megacon. The brioche french toast was packed with brown sugar bacon and topped with candied orange peel, maple syrup, and mint. I'm glad Mr. Forkful was just as hungry as I was — you can only have so many Pocky on the convention floor before you need actual food. The egg was perfectly over easy and there can never be too much of Curbside Chef's sugar-laced bacon. At this point, I was so glad our food truck banquet was split over two days of Megacon.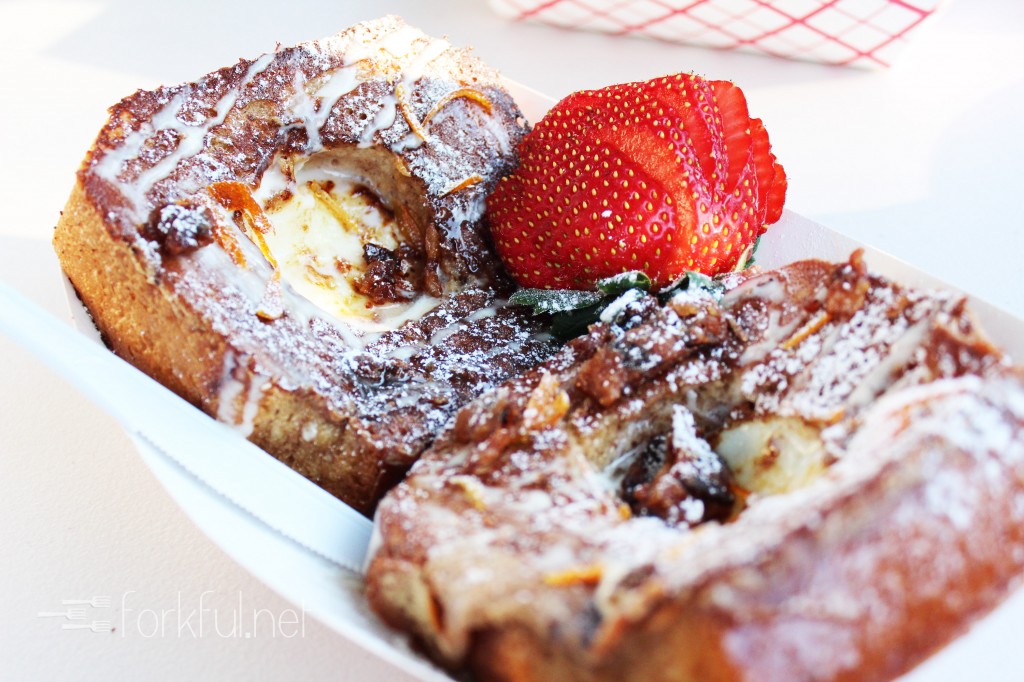 Curbside Chef's Curbside Tacos also begged to be eaten. This Puerto Rican couldn't resist the amount of Adobo chicken in these tacos. The chicken, onions, and peppers were brightened by the fresh lettuce, tomato, and avocado cream. The fluffy, traditional Dim Sum plate (barbecue pork buns and shrimp dumplings served over edamame) was a nice palate cleanser after all that richness. The tidy, little xiaobao style buns were about how much room we had left during this food truck feast.
In lieu of Big Wheel Provisions' hiatus from the Florida food truck market, my new favorite food truck is Curbside Chef.