Let's get back to basics. There is a jewel of a sandwich shop with amazing barbecue, salads, and wraps in the heart of Gotha called Yellow Dog Eats. The building is a historical 1910's to 1920's home restored and converted into a cozy, laid-back getaway with some unforgettable noms by Culinary Institute of America alum, Chef Fish Morgan. Yellow Dog also totes house-smoked meats, housemade pastries, and locally grown greens. Condiment fiends, there's also housemade sauces and jams.
Mr. Forkful and I head out to Yellow Dog whenever we feel the need for a reliable place where everything on the menu is a sure-fire win. Usually, I'm a fan of the Thin Elvis on a bun for those fab red onions and scallions, but this visit I went for The Rufus. This monster is a mountain of pulled pork, Brie, cherry ring peppers, and the house raspberry Melba sauce. My add-ons of choice were the shoestring potatoes and applewood smoked bacon, which was sliced in strips for maximum bacony coverage.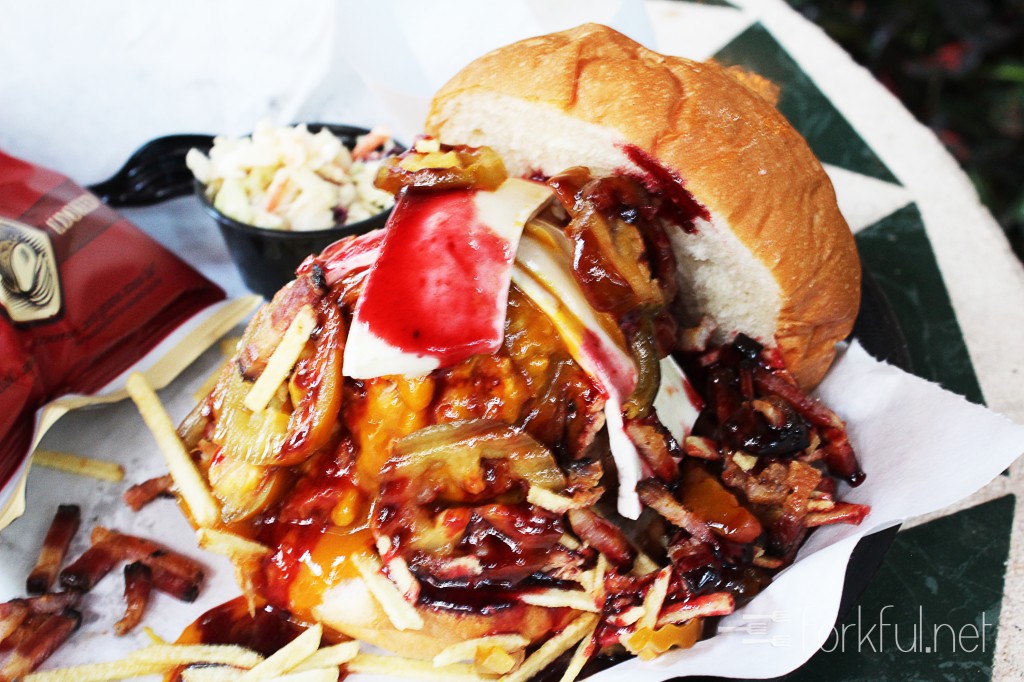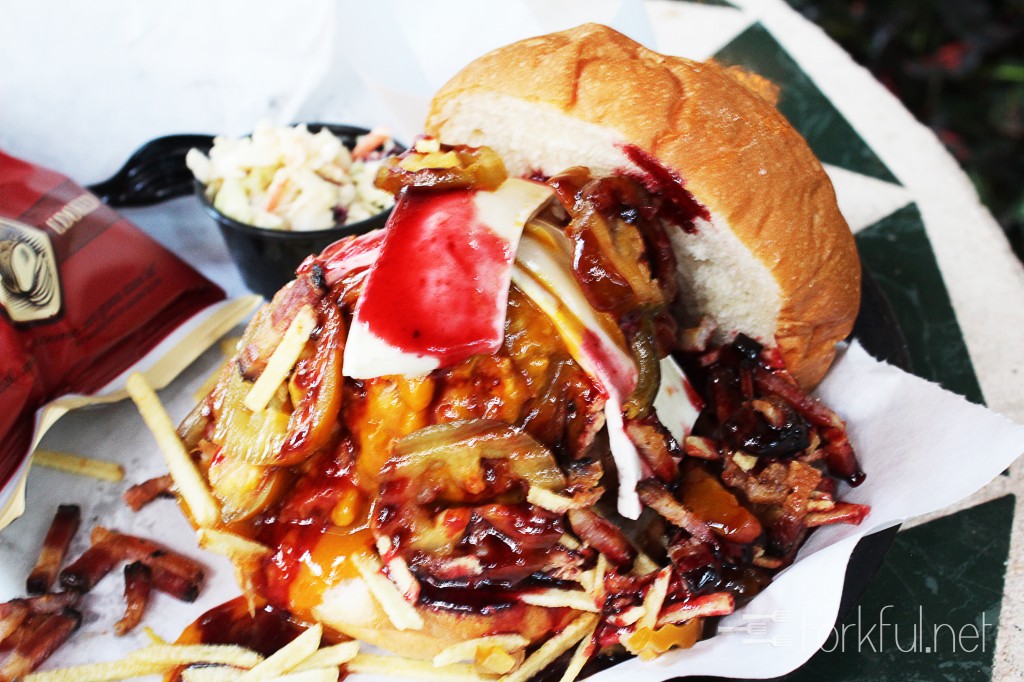 Since our winning strategy is trading sandwich halves, Mr. Forkful scooted half of his Buffalo Solider onto my place in return for half of The Rufus. The chicken packed into the Chipotle flour tortilla was nothing short of succulent. I could have done with more Bleu Cheese in my half, but then again Mr. F could have maybe done with more bacon on his half of The Rufus. Teehee.
The sauce was a lightly sweet orange-Cointreau mayo and homemade buffalo sauce — the right kind of spicy that slowly builds and covers my whole palette. I'm not sure which drippy bits were the buttermilk wasabi dressing "One Love," but all the sauces together made for an pretty epic effect.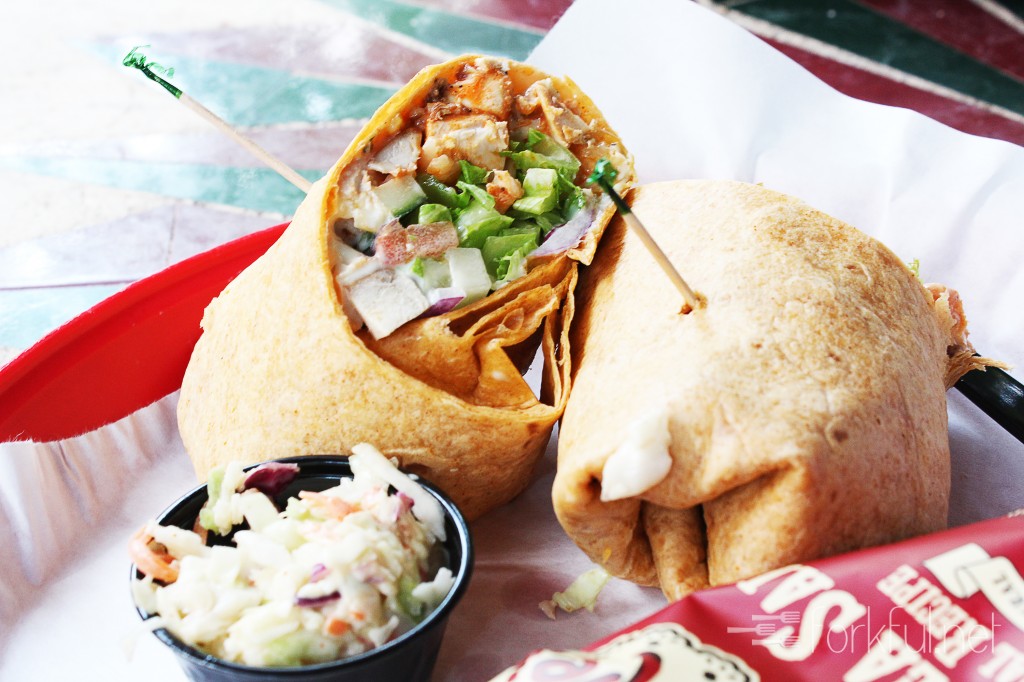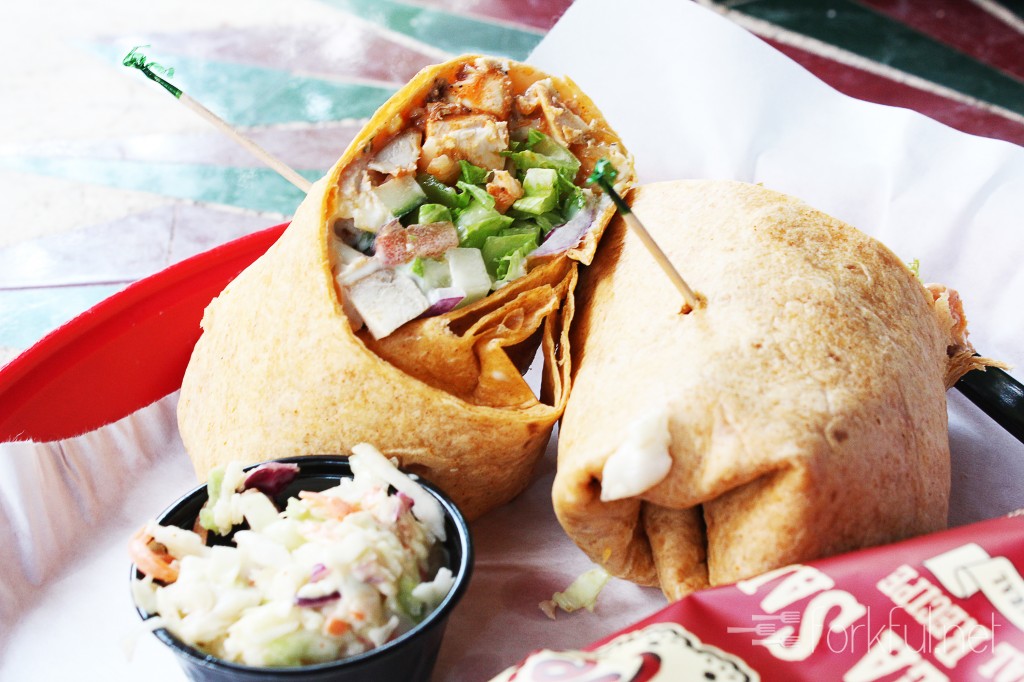 I don't have any beef with Miss Vickie's kettle cooked potato chips —I love them — but housemade potato chips K.O. bag chips every single time. Although, when a menu pops with as many delectable choices as Yellow Dog's, I'm not about to split hairs over chips. The tomato and mozzarella salad in an herbed balsamic glaze was refreshing, and the Delirium Tremens on tap didn't hurt either.
People have been enjoying Yellow Dog Eats for years. The place even survived a kitchen fire a few years ago and re-opened stronger than ever to maintain a sparkling 27 out of 30 Zagat rating. Bring your dog, sit on the patio in the garden, and relish every single thing you order — you'll thank me later.
Yellow Dog Eats • Twitter • Facebook • Yelp • Google Maps
Phone: (407) 296-0609