After an exciting and exhausting 2012, nothing could wrap up the year better than a trip to the Chefs James and Julie Petrakis' (The Ravenous Pig, Greens & Grille) Orlando tribute to Southern cuisine and craft beers, Cask & Larder. Adam and I pulled a late-night run weeks after their grand opening, and we were thrilled by their late night menu — the Beer Flight and Fried Dough "wit" beer doughnuts with soft caramel pudding and citrus-caramel glaze are a must! We are one dinner service away from considering ourselves fully anointed Cask & Larder fans because we just had their fabulous Sunday brunch.
Danielle and her husband Matt were visiting from San Francisco. They graciously gave us San Francisco foodie tours — Tipsy Pig, Umami Burger, Bi-Rite Creamery, and Pacific Puffs — so during the short time they were in Orlando, we had to introduce them and Allie to Cask & Larder.
Our brunch was immediately launched to the foodie stratosphere by the Cornbread and Bake Shop on a Board (Profiteroles bananas foster, Apple Fritters with apple cider glaze, Savory Scones with cheddar cheese, chive, and ham butter, and Muffins with preserved pear, cranberry, and orange butter.) The apple fritters just blew me away — the outsides had an even crunch, but the insides were like the perfect apple pie. The fritters looked a little over-done, but in the end were my favorite baked offering.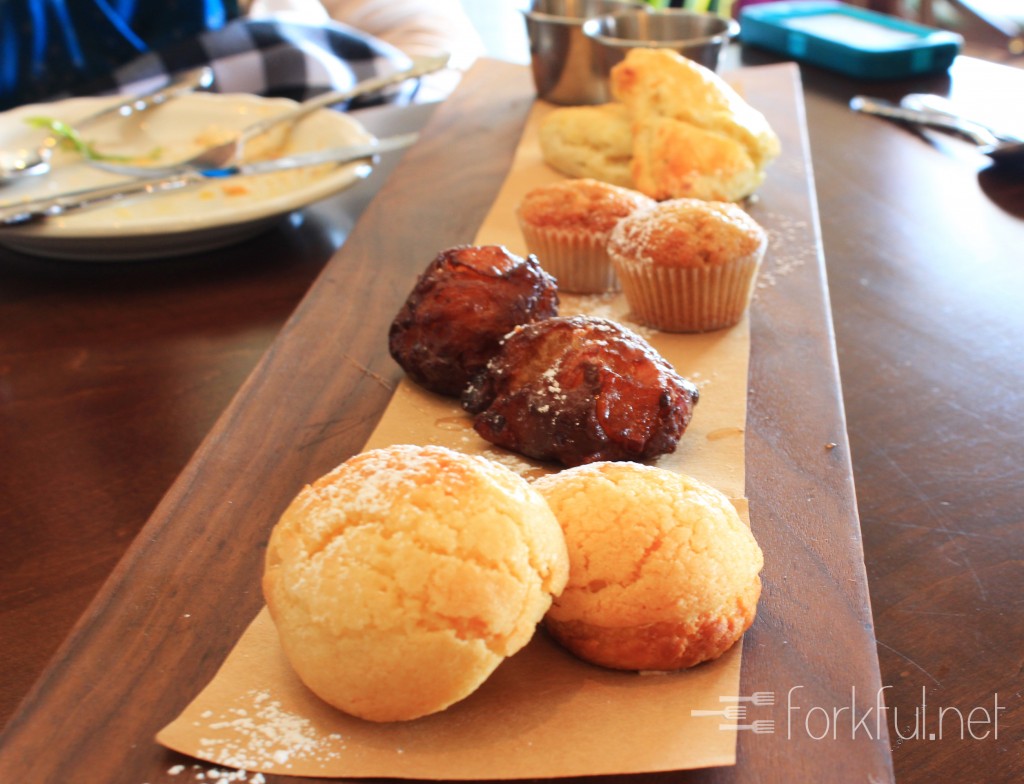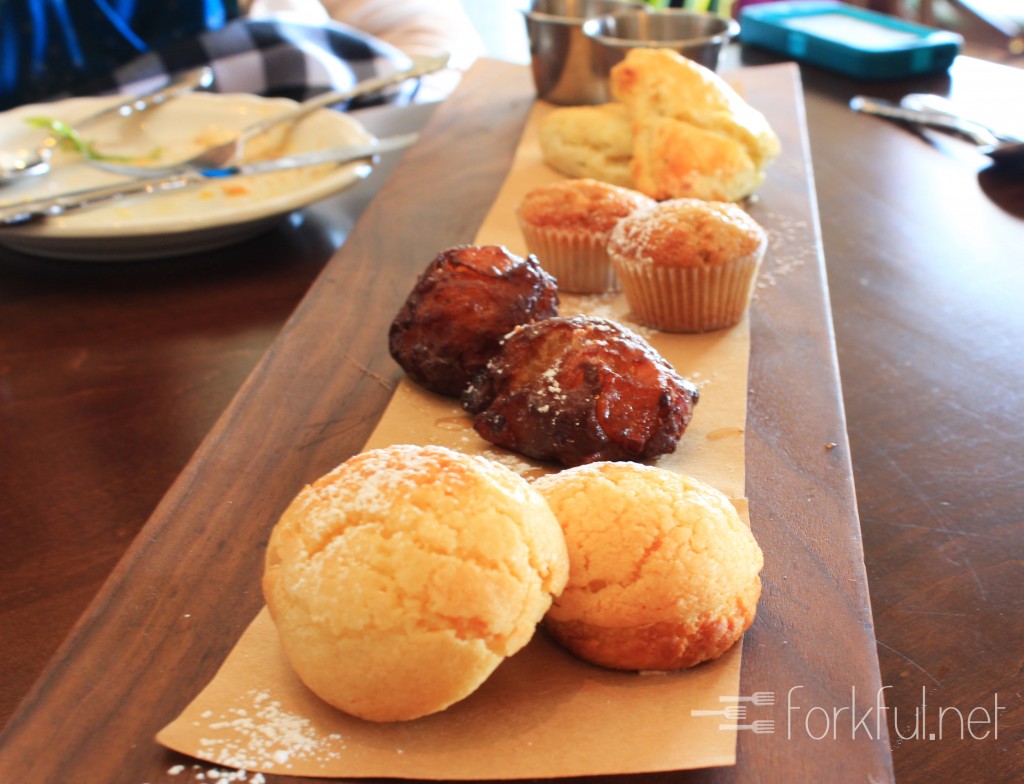 The Cornbread was lightly toasted around the edges, super-moist, and slightly crumbly and topped with melting Savannah orange blossom honey butter. This cornbread and the cornbread at Stonington's Seafood (some say corn cake because it can be so decadent depending on the day) are now my two favorite cornbreads in Orlando.
The Fried Green Tomatoes were juicy with a light crunch. There was hardly any grease at all, although the flavors of the escabeche vinaigrette and tomato jam seemed seemed lost on the plate. I was charmed as long as I took even bites of crunchy outer layer, tomato, and sauce. The "escabeche vinaigrette" was a little confusing, as it nothing on this plate tasted like it was marinated in a vinaigrette like traditional escabeche. Still, these fried green tomatoes stayed true to their Southern roots.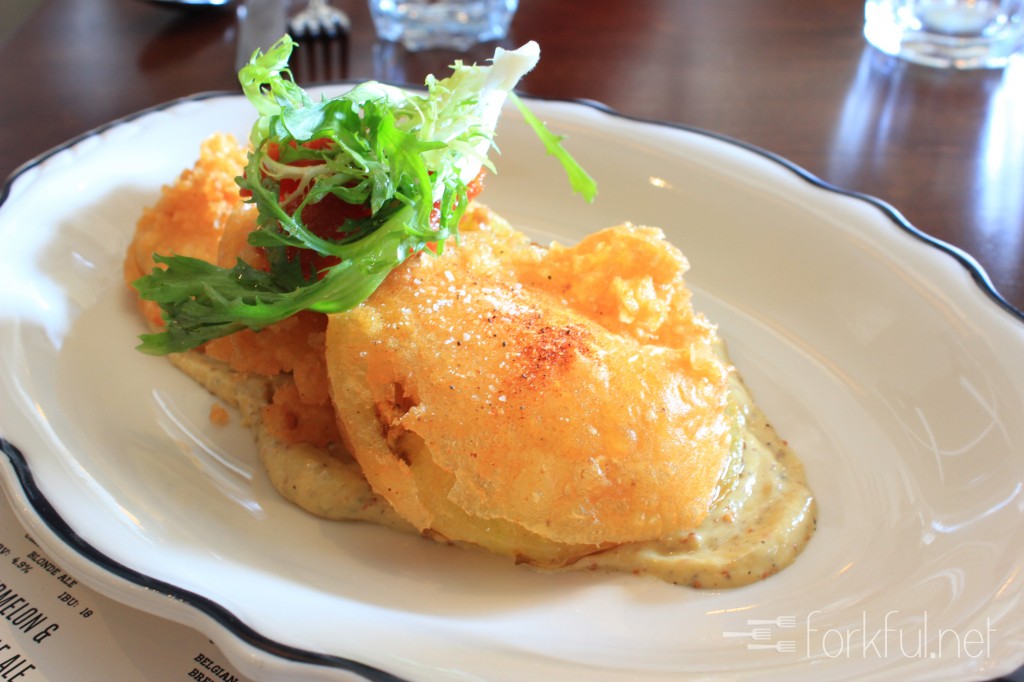 Adam and I sipped more of our Whinter Whiskey Stout, which was the hand-pulled offering that day.  Since Cask & Larder is also a brewery, the beers are a must. Then, Danielle shared a bite of her epic English Muffin topped with fried chicken, black pepper gravy, and tomato salad — the chicken pieces were crunchy, moist morsels covered in an evenly creamy gravy.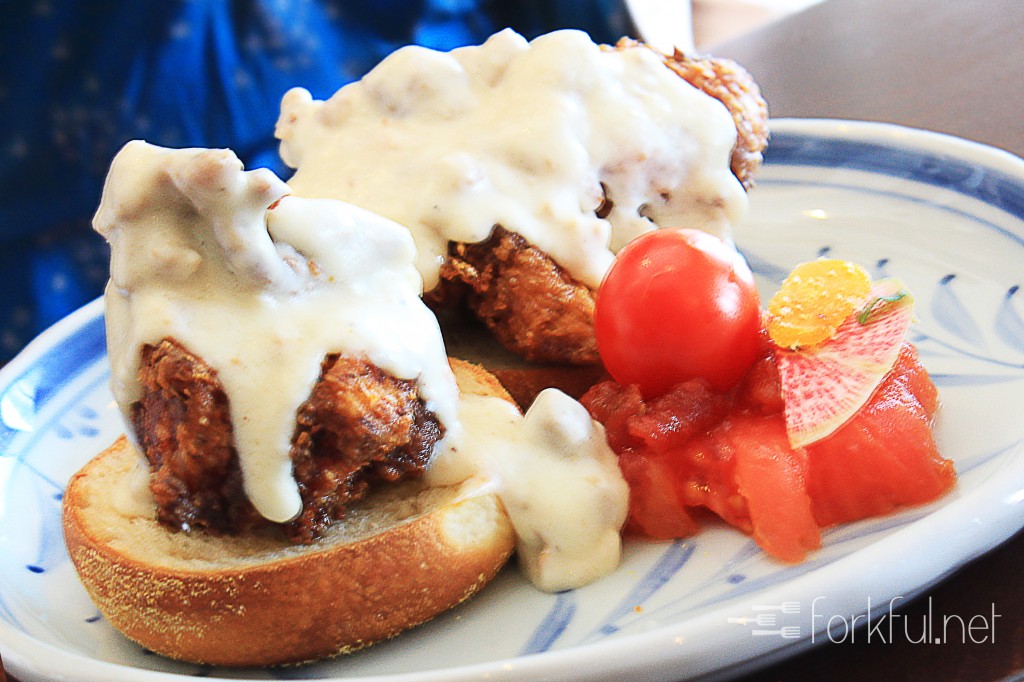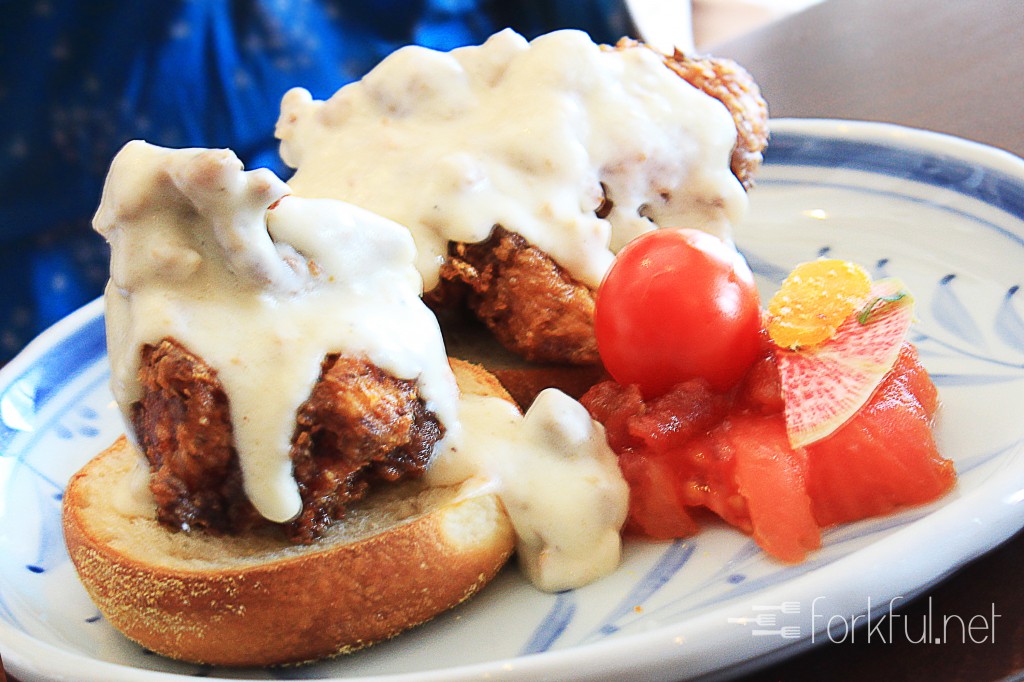 Allie enjoyed a light, crisp Waffle crowned with ripe Florida strawberries and vanilla chantilly, and Matt dove into an elegant re-imagining of the classic Egg in a Basket. At this point we were all too stuffed to even consider dessert, but the Bakeshop on a Board took care of our cravings for sweets earlier in the meal.
Adam and I shared an order of Trout served over a cornbread pureé, spinach, and potato leek ragout. The plate was a happy compromised between Adam's love for high protein and my love for starches. The fish was perfect cooked; every bite had a touch of butter and something else, but never hinder the natural flavor of the fish. We loved this dish skin and all. I think we could have done without the Breakfast Fixins' — country ham, venison sausage, chicken sausage — but we couldn't resist trying the venison sausage. The meats were fresh and locally sourced like everything else at this local gem of a restaurant, but didn't stand out above the rest of our meal.
My foodie goal, no, my foodie mission for 2013 is to eat at Cask & Larder more times than I did in 2012, and I suggest you do the same. Reservations are highly, highly recommended.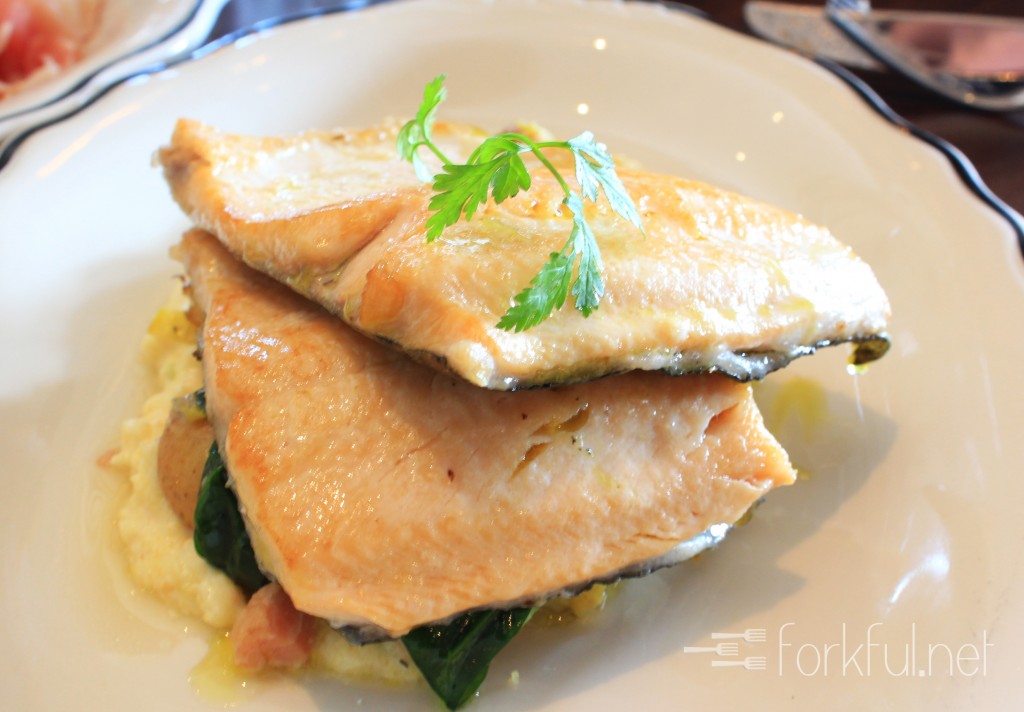 Cask & Larder • Facebook • Twitter • Yelp • Google Maps
Phone: (321) 280-4200