Tucked away in the back corner of the Marriott World Resort lobby is Orlando's newest Italian restaurant helmed by Chef Greg Picard and Chef Anthony Burdo. The casual, open layout with rustic wood-top tables and warm lighting was inviting. The long table layered from end-to-end with antipasti and dark wood full-service bar didn't hurt either. Siro is family-style with finesse.
A few sips of housemade limoncello (flavored more like a mild lemonade) later, I joined over a dozen Central Florida food writers on a tour the Siro kitchen led by Chef Burdo. Delicate Crispy Baby Artichokes were served with a light yogurt mint dip, and Burdo's Famous Veal Meatballs were second on scene in a classic Pomodoro sauce, which was thick with tomatoes and lightly spiced. The Regina Margherita and Siro Sausage and Pepper flatbreads hit a few familiar notes with creamy burrata, fresh basil, and sweet peppers. My favorite opener was really the Tuna 2 Ways. Delicate slices of Ahi Tuna was served crudo over tonnato (pureéd mayo-like sauce with lemon and spices) and garnished with green onions. Siro does mainstays like meatballs and flatbreads well, but they do a few other things better; housemade pasta, pork to sigh over, and donuts that take a minute longer to savor than expected. More on the donuts later.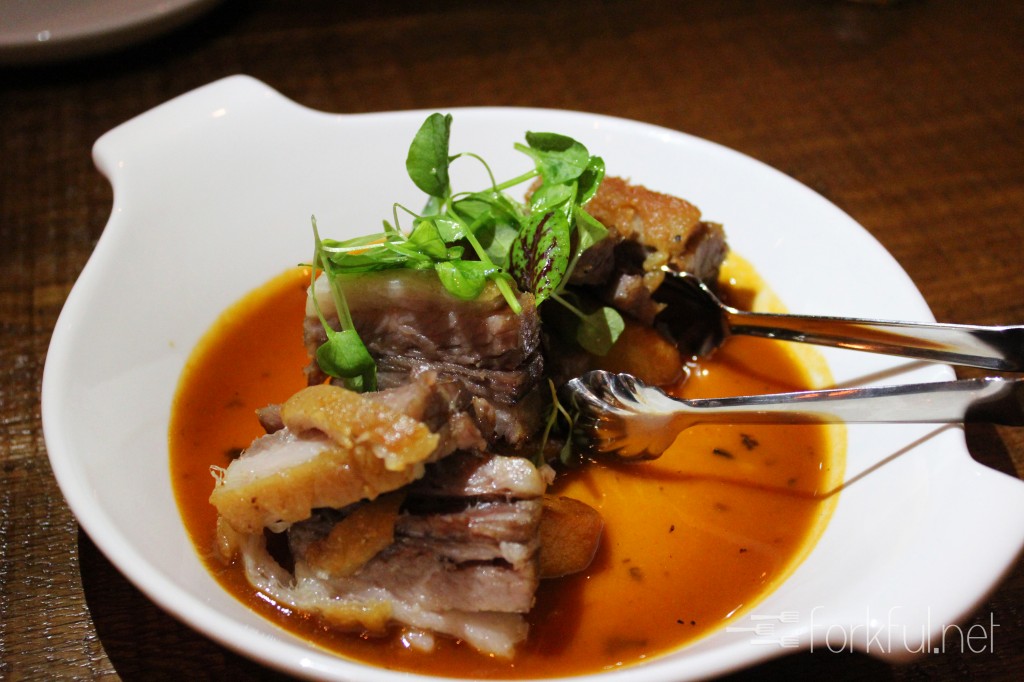 The highlights of the night were the housemade Bucatini with the Red Lead, Cheese Tortellini, Pork Belly with Pink Lady Apples, and Braised Pork Shank. The bucatini noodles were thick, satisfying, and served in a smokey "red lead" red sauce. The tidy Tortellini shells were stuffed with just enough creamy cheese and plated with butternut squash, sage brown butter, and crispy sage leaves for a unique touch. The Pork Belly was unforgettably fall-apart tender topped with a bit of greens to cut through the savory. The apple slices were either overwhelmed by the pork or I just forgot to eat a few slices with each bite. Yeah, I think the apples slipped my mind.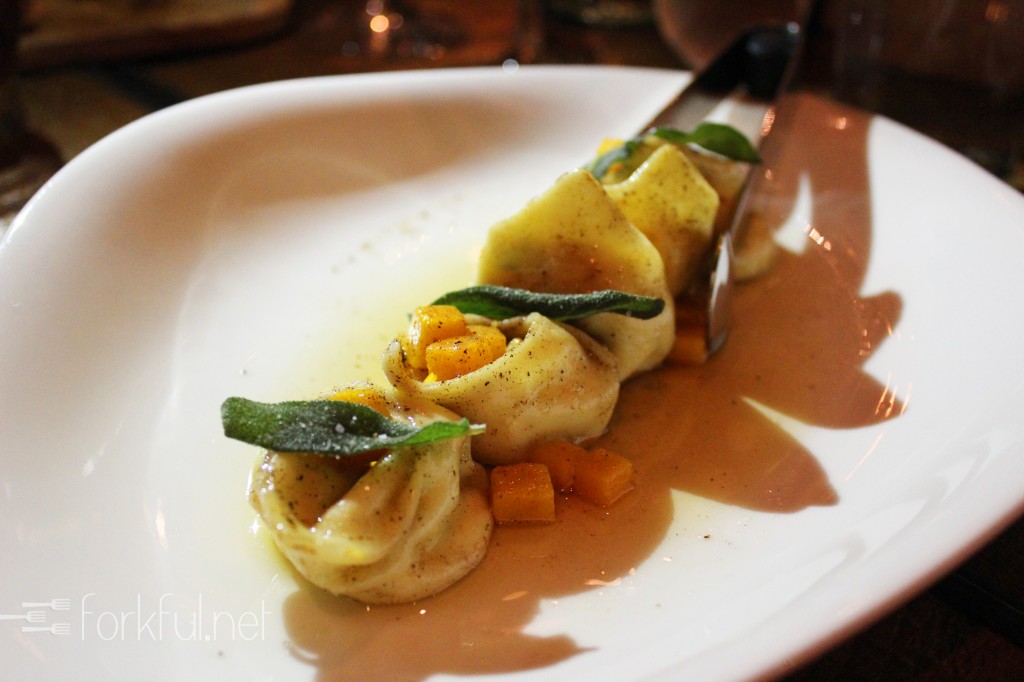 A similar situation happened with the Braised Pork Shank. The glistening, tender hunk of pork was the star of its plate even though it was surrounded by stewed white beans. The beans added a  nice texture, and a little comfort food feel, but they took a back seat to that succulent pork.
The Veal Saltimbocca with Garlic Rapini, while moist and tender, was on the bland side. The sauteéd rapini, while tempered by garlic, was overwhelmingly bitter. Other plates on the menu left the veal behind in terms of flavor and genuine satisfaction. Before dessert made an appearance, well many appearances, The Burger made its way around the table in the form of sliders. The bakehouse bun was good, but what made The Burger memorable was the crispy slices of pancetta. At the end of the night, I probably would not have objected to a whole basket of crispy pancetta and more bags of housemade donuts.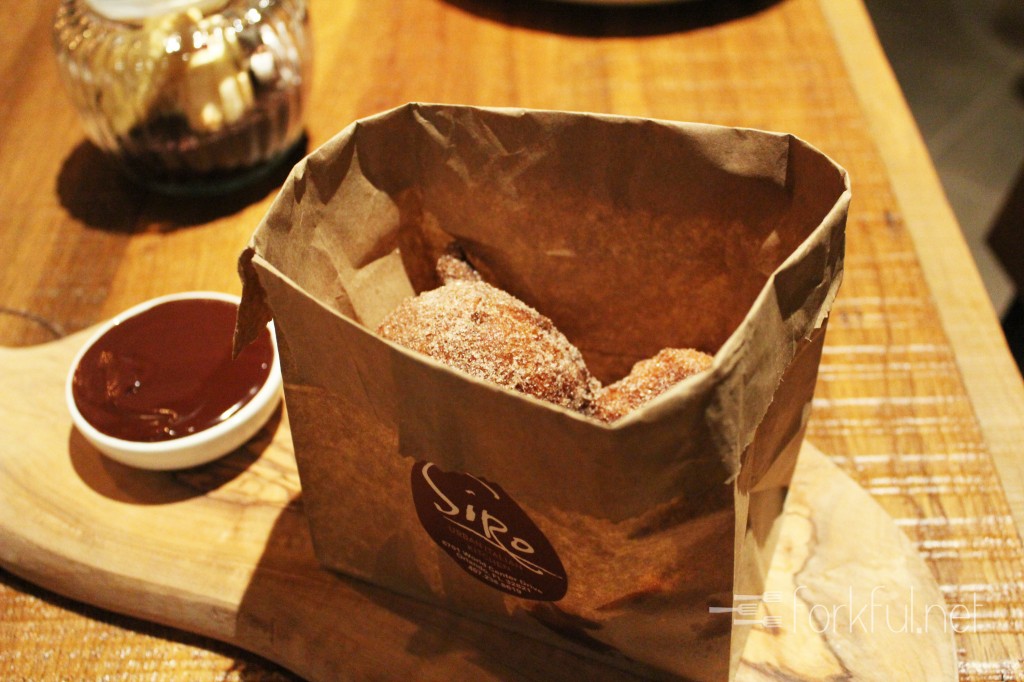 Yes, donuts. Now hear me out: Siro served a fresh Bag of Donuts with housemade dark chocolate and they were divine. The round bits of fried dough were as airy as beignets and lightly dusted with cinnamon and sugar. I said housemade dark chocolate because in addition to an award-winning Executive Pastry Chef, Ramon Ramos, they have an in-house chocolate room. Chef Ramos' team also made an interesting Pistachio Nougat for the night, which had just a bit of give laced with crunch. The Tiramisu was also a gem — layered with sweetened Mascarpone cheese and biscuits with a surprisingly smooth espresso flavor.
In other words, be it for antipasti and wine or a few shared main courses, Siro offers Italian that begs revisiting; especially since I only had room for one traditional Italian cookie from Ramon's Cookie Jar (anise, fig, almond, chocolate crumble, amaretti, raspberry) this time.
Siro Urban Italian Kitchen • Facebook • Twitter • Google Maps
Phone: 407-238-8619

Disclosure: The food and entertainment mentioned in this post was paid for by Siro Urban Italian Kitchen, although the views and opinions expressed in this post are purely my own. This post was not reviewed by Siro Urban Italian Kitchen in any way.