PechaKucha (puh-CHA keh-SHAW) — although I can only seem to say peh-chach-ka — Orlando just celebrated its twelfth anniversary with talks that pay tribute to love in all its forms. Quilts? Lost love? Tech love? All that and more was represented by some amazing speakers including Carolyn Moor (Modern Widows Club), Thomas Thorspecken (Analog Artist Digital World), and Max Jackson (Neural Data Analyst).
Yum Yum Cupcake Truck and Tamale Co. fed the hungry hoards of PechaKucha goers with some sweet and spicy love of their own. So Mr. Forkful and I did what we seldom do — got four of everything!
YUM TUM CUPCAKE TRUCK
The Dough Dough Bird Cupcake tweeted its way right into muh bellie. Luckily, Mr. Forkful reminded me of the all-important lifehack of creating a cupcake sandwich; when you rip off the bottom of a cupcake and put it on top of the frosting. Because there was just no other way for me to eat this Dough Dough Bird with all that scrumptious chocolate chip cookie frosting. I felt like I was eating gobs of glorious cookie dough, also known as Success.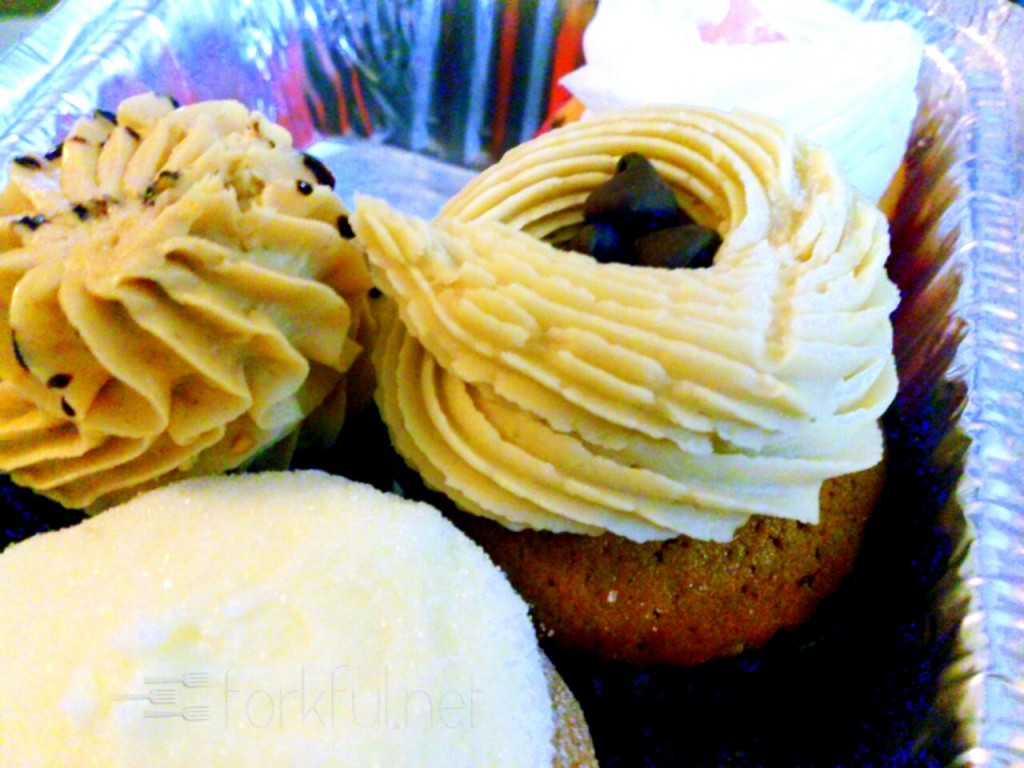 The Dom Berringnon Cupcake was the berriest cupcake and Mr. Forkful's pick, but I may have had something to do with that. Strawberry cake, strawberry cream cheese, and champagne buttercream — sounds and was decadent. This cupcake was actually a bit too sweet for me — gasp! But still a lovely little number on the palate.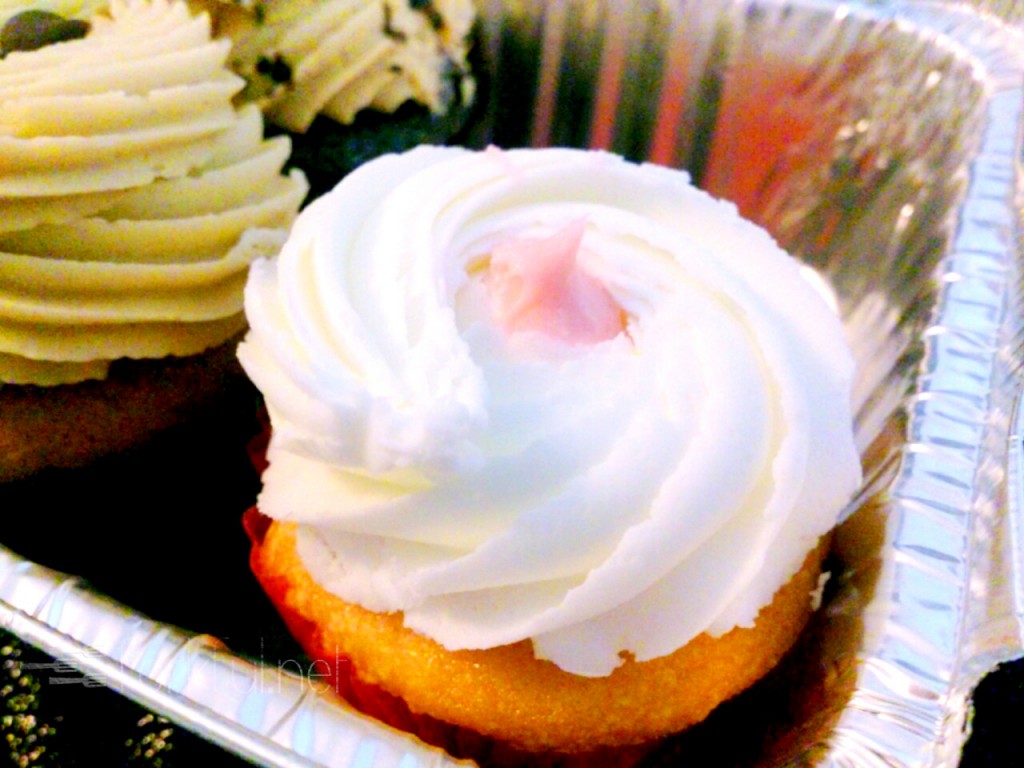 Mr. Forkful's other pick was Peanut Butter Choco-Rama with a mash-up of chocolate cake, peanutty goodness, and chocolate sauce. Since I'm not a peanut fan, Mr. Forkful seemed to enjoy the Choco-Rama twice as much.
We also sang The Ballad of El Churro — a lone adventurer stuffed with Dulce de Leche sour cream filling wearing a marscapone buttercream sobrero of cinnamon and sugar. His song was short, but his memory lives on.
TAMALE CO. FOOD TRUCK
This night was also the first time Mr. Forkful and I tasted the goodies from the Tamale Co., and it most certainly was not our last.
I can't get the amazing, all-encompassing heat of the Pork Verde Tamale out of my mind! The meat was well-seasoned and dressed up in Tamale Co.'s own hand-crafted Chile Verde sauce. The tomatillo cream sauce kept the flavors temperate with a nice cilantro aoili as its co-pilot. The queso fresco added another layer of fabulous texture and the cilantro leaves brought the whole tamale together.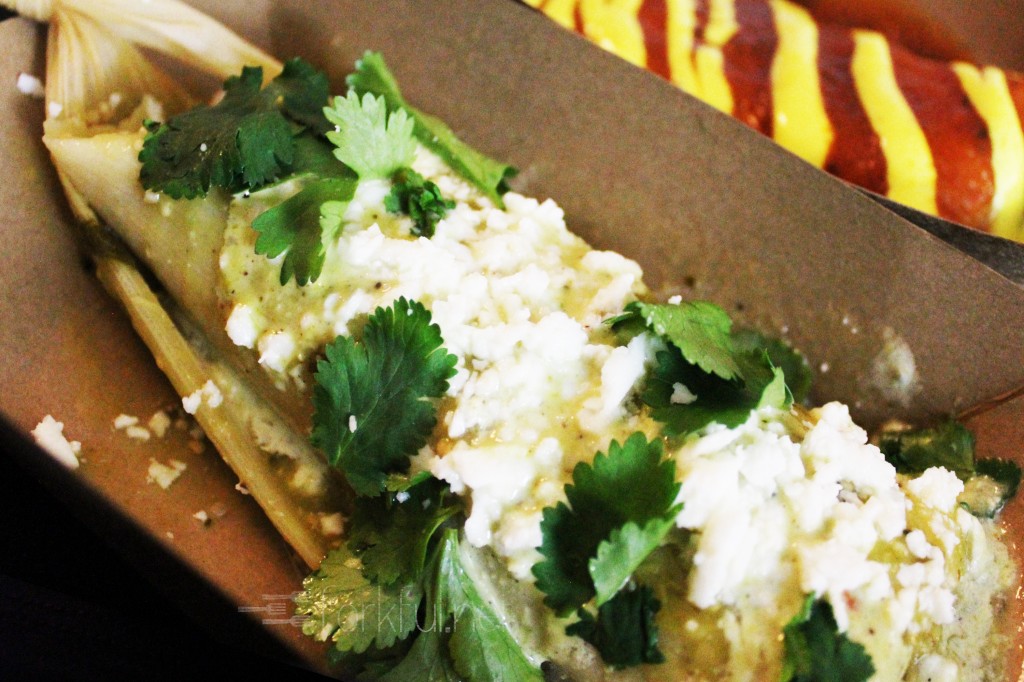 The Ropa Vieja Tamale was a juicy little roll of pulled brisket with a tomato-based sauce and an aji amarillo aioli and sweet plantains, although I think Mr. Forkful ate the sweet plantains before I could get to them. I did, however, get to steal a taste of the heavenly tropical pico de gallo on Mr. Forkful's Caribbean Pork Tamale. Seriously, I could put that salsa on everything.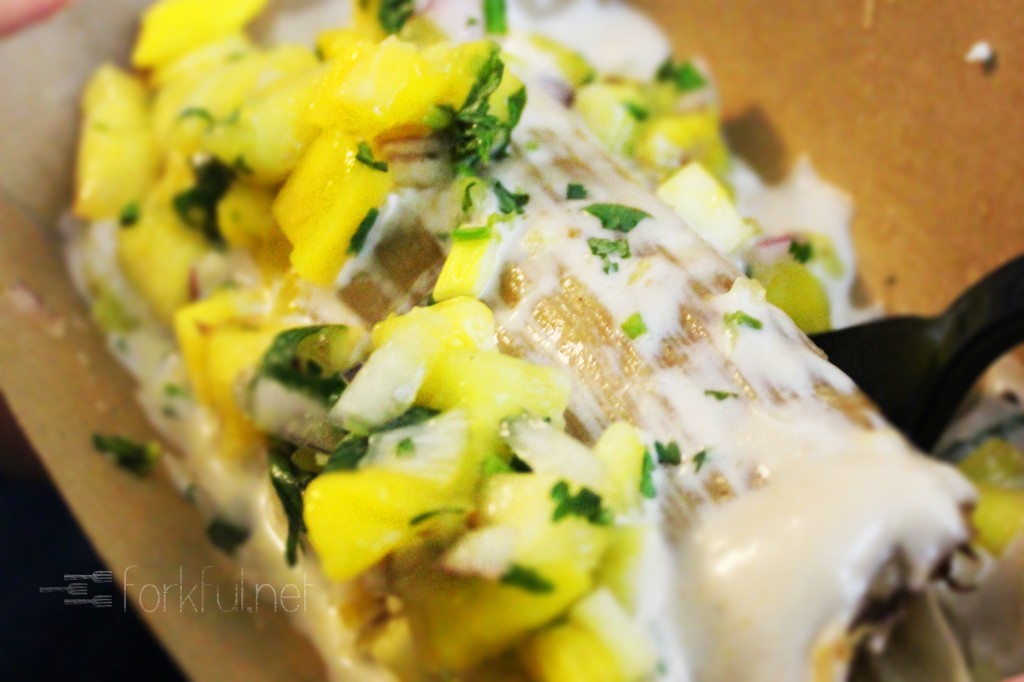 Next time I'm going all out with something I haven't tried — the Buffalo Chicken Tamale and Choriqueso (chorizo Mexican sausage and cheese tamale).
Until then, mis amigos.
Yum Yum Cupcake Truck • @yumyumtruck_fl
Tamale Co. Food Truck • @tamale_co