The House of Mouse isn't the only place in Central Florida to dine inside a castle. Medieval Times has been in Kissimmee for almost thirty years and is the dinner show's first castle. I remember this Medieval Times as one of the first big landmarks on Highway 192 — along with Xanadu: Home of the Future, Old Town, and Orange World — but I hadn't visited until now.
Knights and their loyal steeds debuted Medieval Times' newest show, and guests were invited to feast with the king as lords and ladies. Unfortunately, the table fork did not spread to England until the early 17th century, so all guests had to eat with their hands. The ladies beside me apparently knew about the hands-on experience beforehand and smuggled plastic cutlery into the show. Ye olde hindsight, thou art twenty-twenty.
The first course, tomato bisque and garlic bread, was served as the king led his knights through a processional and proclamation for a friendly tourney. The soup was less bisque and more a light, sweet broth. The garlic bread was more of a fab, round loaf topped with butter, tomato, and possibly parsley. Together, the bread and soup felt wholesome and were easy to eat without utensils. Sip, dip, and nom!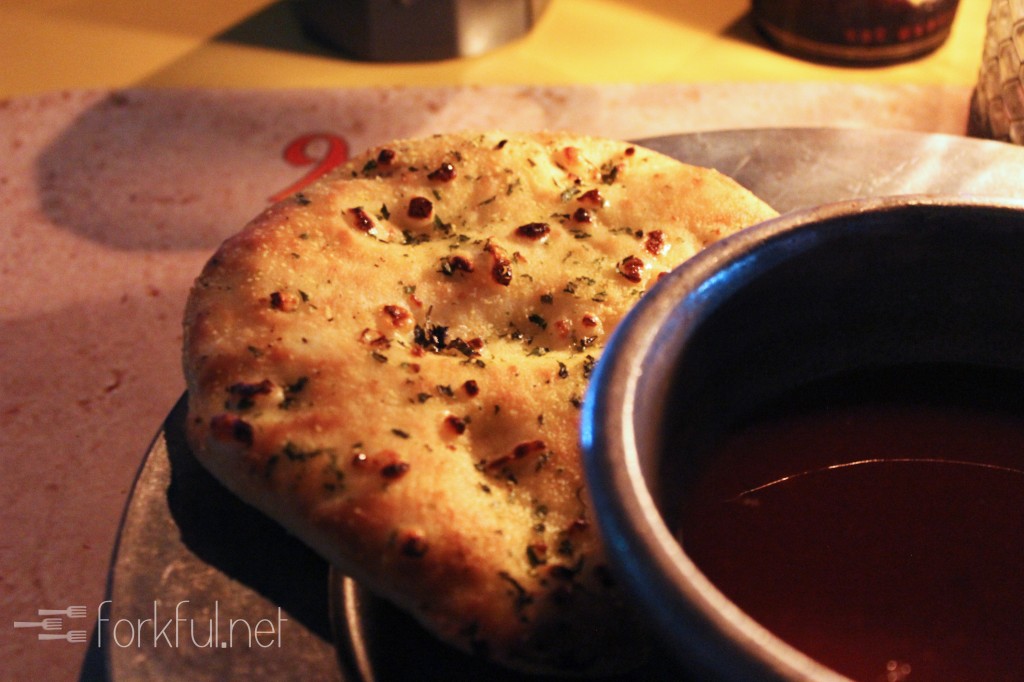 The knights rallied for falconry, jousting, and armed combat. The guests, on the other hand, were saddled with their own glorious challenge: Devouring half an herb-roasted chicken, spare ribs, and herb-roasted potatoes. The chicken was my favorite of the two; the bird was succulent, well-seasoned, and just plain fall-off-the-bone good. The spare rib was a little smokey and basted in a thick sauce, but at this point I decided to tag in Mr. Forkful for a little help.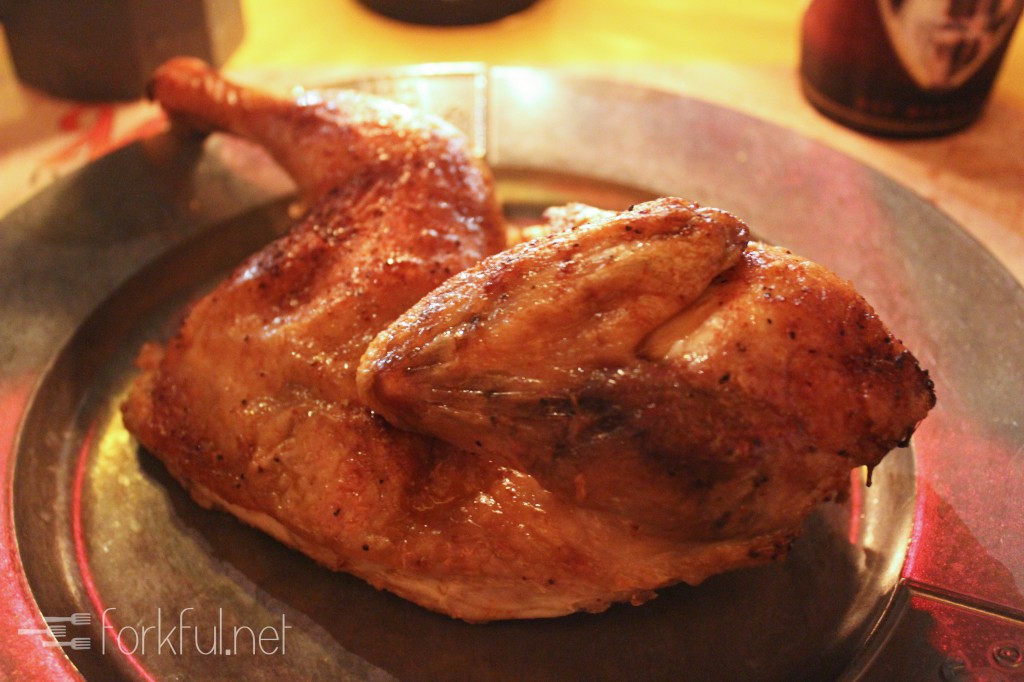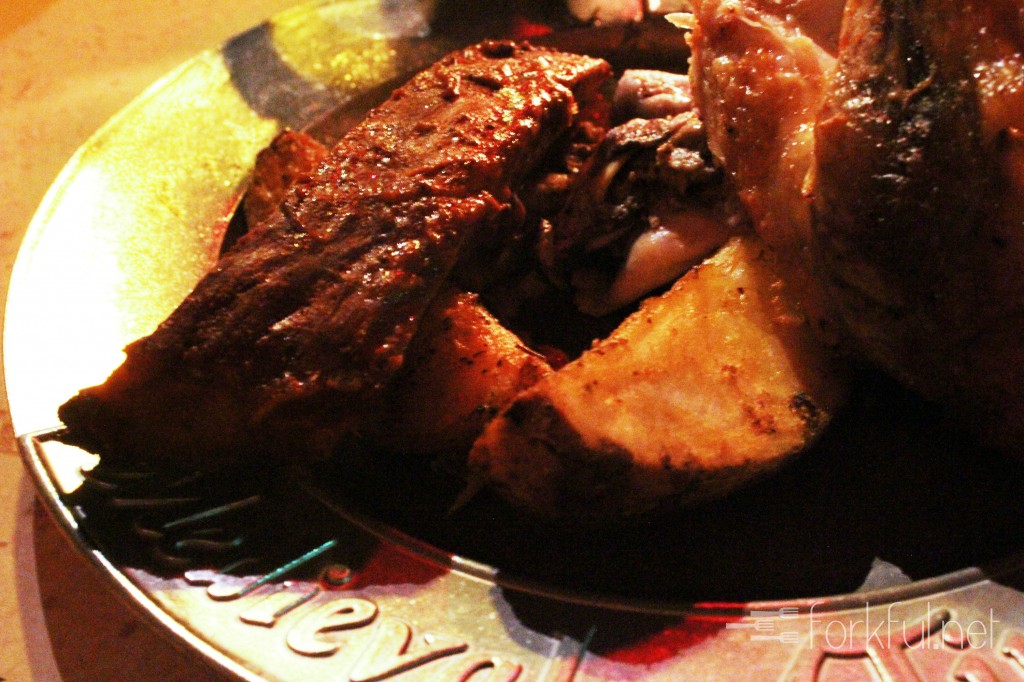 The Knights of the Realm fought valiantly, but the Red and Yellow Knight bested them all as the Pastry of the Castle was served. This scrumptious apple turnover tasted fresh out of the oven and was a good way to wrap up the new 2012 show. An interesting dance party followed the show, and the centerpiece was a cake replica of the Medieval Times castle by Cupcake Kisses in Saint Cloud. I didn't know the castle was a cake until the servers started serving it to the guests!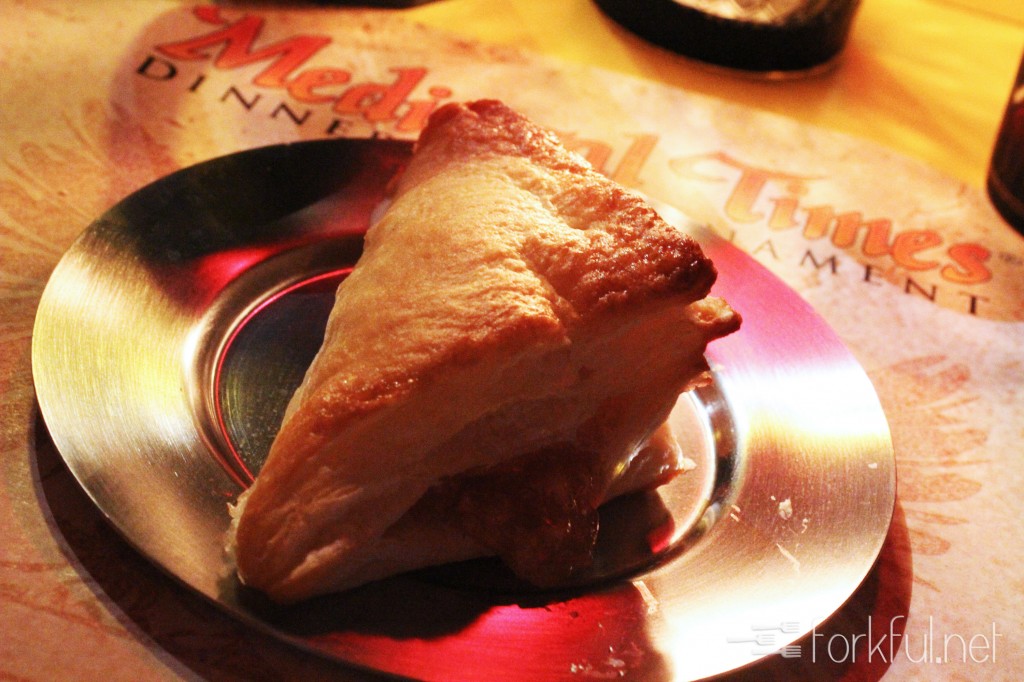 Mr. Forkful and I had a fun night at Medieval Times. We were both a little baffled by the dance party afterward, but everything was in good fun. We also caught up with Brian of Central Florida Top 5 and Watch Me Eat, and there may or may not have been a little round of Electric Slide before we departed.
Cheering on the lovely horses during dressage sequences and clapping for knights during the tournament was exciting — nothing like a few armored men riding exotic horses towards each other at remarkable speeds for excitement! The fare is well-made, accessible comfort food that everyone can enjoy, which is why I think this Medieval Times prize pack will be easy to give away.To enter:
"Like" the Forkful Facebook Page or follow me on Twitter.
Comment in this post with two sentences about your favorite dinner show or theme park dining experience.
[EDITED 07/25/2012: Since Forkful was down last week, the giveaway has been extended!]
The deadline to enter is now Friday, July 27, 2012. A winner will be chosen through on Random.org and announced on July 28, 2012. Good luck!
[highlight color="eg. yellow, black"][Edited 07/28/2012: The winner of the drawing is EatingWDW! I will contact the winner shortly. Thank you to everyone who entered!][/highlight]

Medieval Times Prize Pack Includes: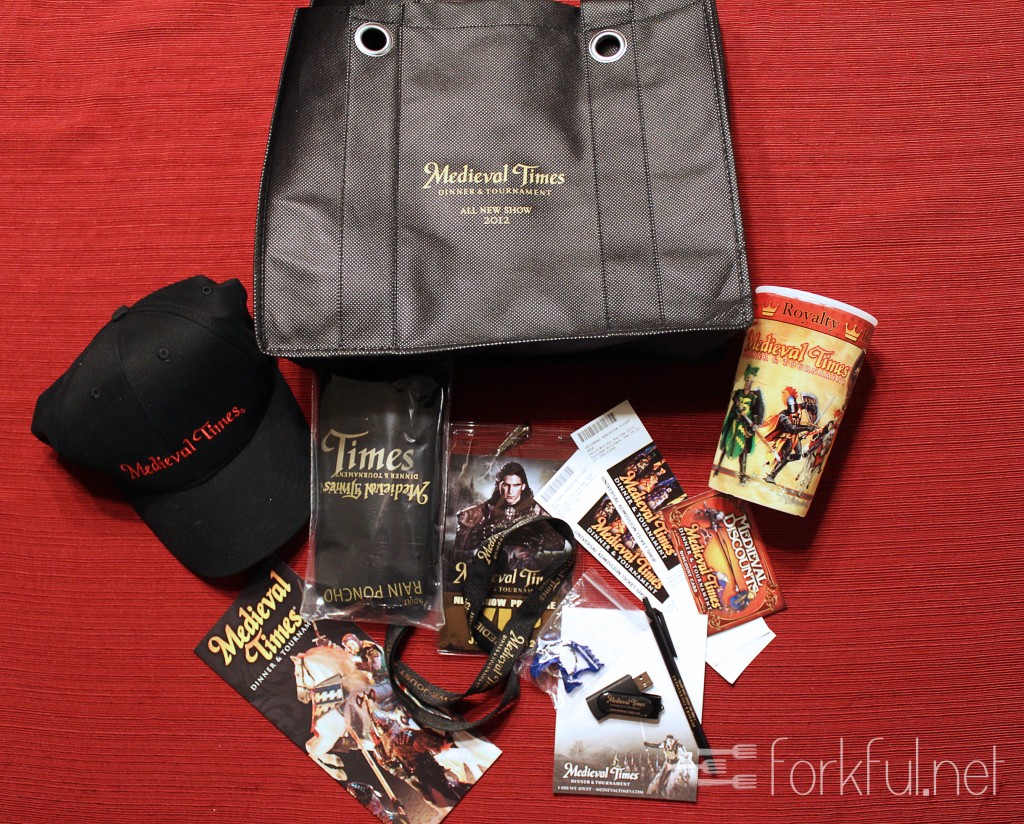 2 Medieval Times Admission Tickets
1 USB 4 Gigabyte Thumb Drive
1 Black Cotton Medieval Times Baseball Cap
1 Black Medieval Times Rain Poncho
1 Lenticular Medieval Times Souvenir Cup
1 Black and Gold Medieval Times Lanyard
1 30% Gift Shop Discount Coupon
1 Medieval Times Note Pad
1 Medieval Times Ballpoint Pen
1 Black Medieval Times Commemorative 2012 Shopping Tote
1 Blue Medieval Times Horse Key Chain
Disclosure: The food and entertainment mentioned in this post was paid for by Medieval Times Dinner & Tournament, although the views and opinions expressed in this post are purely my own. This post was not reviewed by Medieval Times Dinner & Tournament in any way.
Medieval Times • Yelp • Google Maps
T: (407) 396-1518