Driving into the desert was a first for me—first of many firsts during our weekend in Zion National Park—but Mr. Forkful's birthday weekend was a great opportunity to introduce ourselves to South Utah. Fresh from the city, another first was the still and crisp Zion desert air. Zion was all open plains were dotted with rough red and orange sandstone crags. As a birthday surprise, I zeroed in on three hikes near our glamping base camp, Under Canvas Zion: The Narrows, Lamb's Knoll, and Angel's Landing. (Read: Intro to Endurance Hiking, Easy, and Strenuous Skull and Crossbones)
The Narrows Bottom-Up Trail
We were new to canyon river hiking and Utah in general—yay 6-month move-aversary! So we did the The Narrows Bottom-Up hike from the Temple of Sinawava to Wall Street with a little detour at the Confluence fork. No permit necessary and minimal-to-no risk of flash floods in mid-May with mostly shin-level water. Only some areas were waist deep for me, and I'm about 5'3″ tall. We started the hike a little late at 10:00 a.m., which we learned is a very late start! (Side note: Parking inside Zion was already full at 9:00 a.m., but we happened upon a ledge spot after the first campground, so next time we'll definitely start earlier!) We hiked approximately 6 miles roundtrip up the Virgin River in the canyon shadows. Temperatures were approximately 70°F in the daylight, but about 60°F in the shade, and the Virgin River was even colder. We rented dry pants to keep somewhat warm along with walking sticks, neoprene socks, and water hiking shoes from Zion Guru in Springdale but we also brought our own general outdoor gear:
– Waterproof 10L Dry Bag
– Cotopaxi Tarak 20L Lightweight Durable Backpack
– Quick-dry top and leggings
– Waterproof GoPro Hero 4 Session
– Cotopaxi 34oz (1L) water bottles
– Light hoodies
– LÄRABARs
– Canon T3i and Fuji XT1 cameras
– Sunscreen
– Waterproof phone cases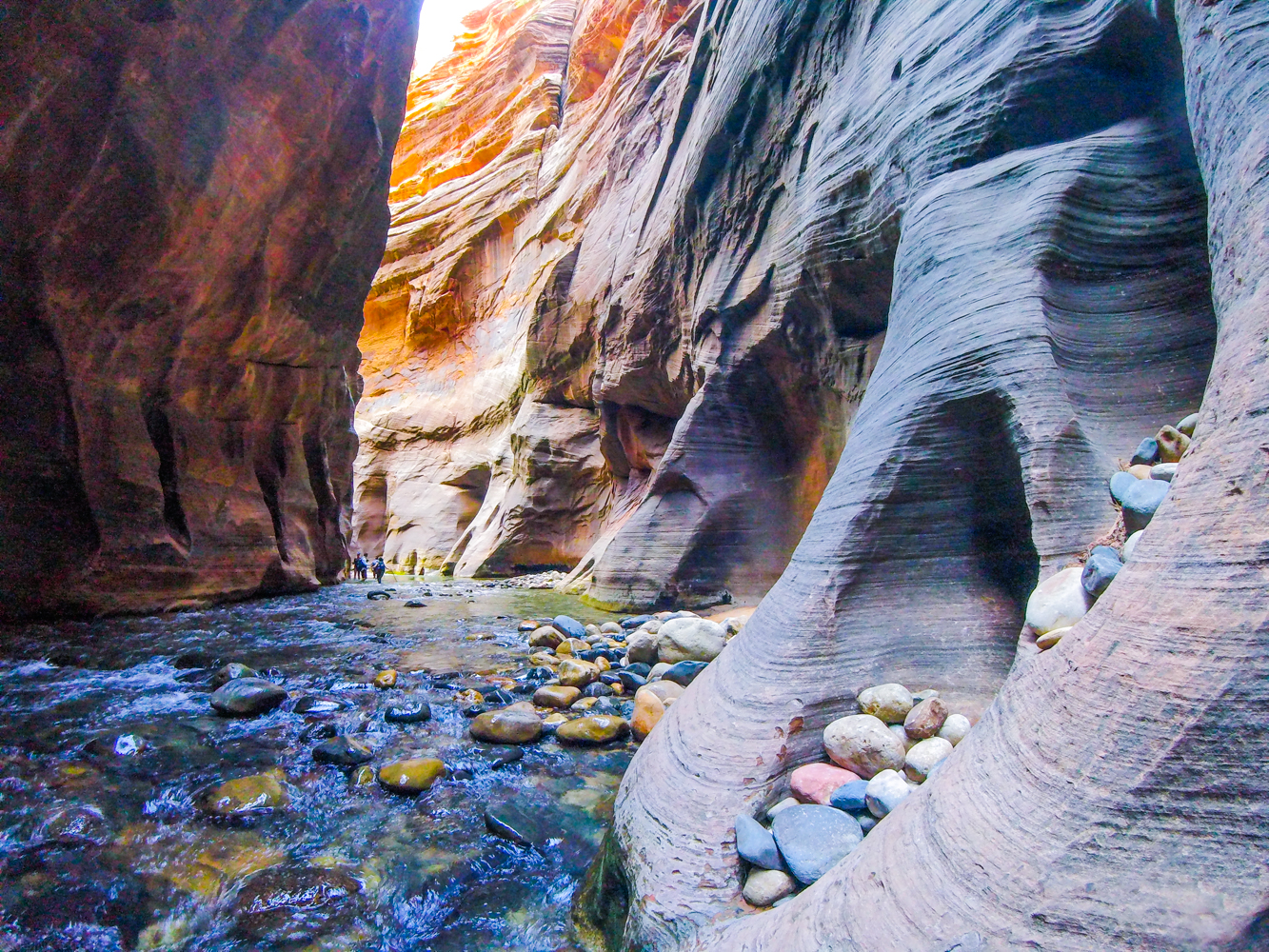 Endurance was the theme of our entire Zion trip. The Virgin River currents pulled at our legs almost the entire way to Wall Street—talk about an entirely different kind of leg day. Plus, we literally kicked rocks countless times as the river bed shifted underneath our feet. Thank goodness for hard, closed-toed shoes otherwise I'm not sure we'd come away without a few fractured toes.
Big groups of people waded into the river at The Gateway of the Narrows, but once we got past the first few turns the canyon went silent. Swifts clung to canyon walls as they intermittently dove for prey and the river echoed off the canyon walls. These were the magic moments. The moments where I forgot about cities and everything modern. Those were the moments we drove out to Zion to experience.
Lamb's Knoll
Under Canvas Zion was right beside the Kolob Terrace Road entrance into Zion, so we signed up for an intro to canyoneering half-day adventure with Zion Guru. Just hiking around the Lamb's Knoll area is incredible in itself. Our guide parked his truck and we followed the spiderwebs of sandy trails around the area as we kept an ear out and watched for rattlesnakes.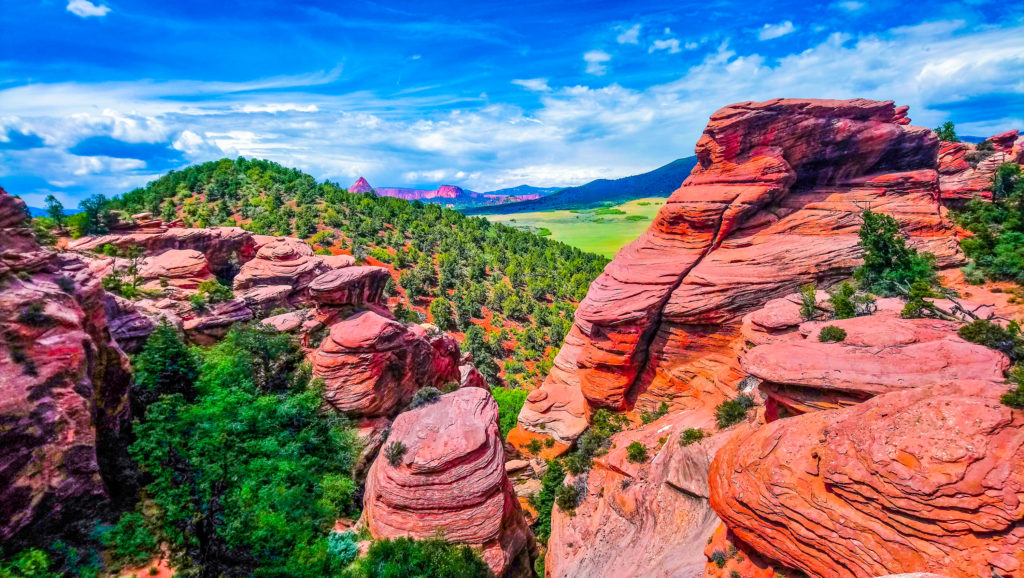 The entire place is covered in tall roughage and more tall, wild sage than I've ever seen in my life. The sage scent wafted around us as we hiked toward the the red sandstone outcroppings. Geared up with our guide, we did our fair share of bouldering. I wish I had worn long sleeves because this is where my forearms and elbows brushed up against the rocks the most. But the view! Every scrape and bruise was worth the panoramic view of Zion.
Then, we incrementally worked our way up from a 20-foot rappel to an 80-foot rappel. The fear was swept aside pretty quickly after the first rappel after learning to hook in safeties and trusting the gear. Leaning back-first down an 80-foot rock was exhilarating and the view while going down was even better. There were also some tight spots we scooted through and a quick shimmy down a narrow, rocky corridor. Rappels aside, this area is full of light hikes and a few easily scaled rocks if you want a better view.
Angel's Landing Trail
Starting at The Grotto Trailhead, this trail was more of a whim while we were in the Zion area. We had time and solid hiking shoes for another trail before our drive back to Salt Lake. Angel's Landing! Why not? Only a 5-mile (8-kilometer) trail. Strenuous, but we had time. Now I'm wondering why we hiked this thing without thoroughly Googling the hell out of it first. Also, how many couples surprise themselves and each other with Angel's Landing? Hindsight raised so many questions.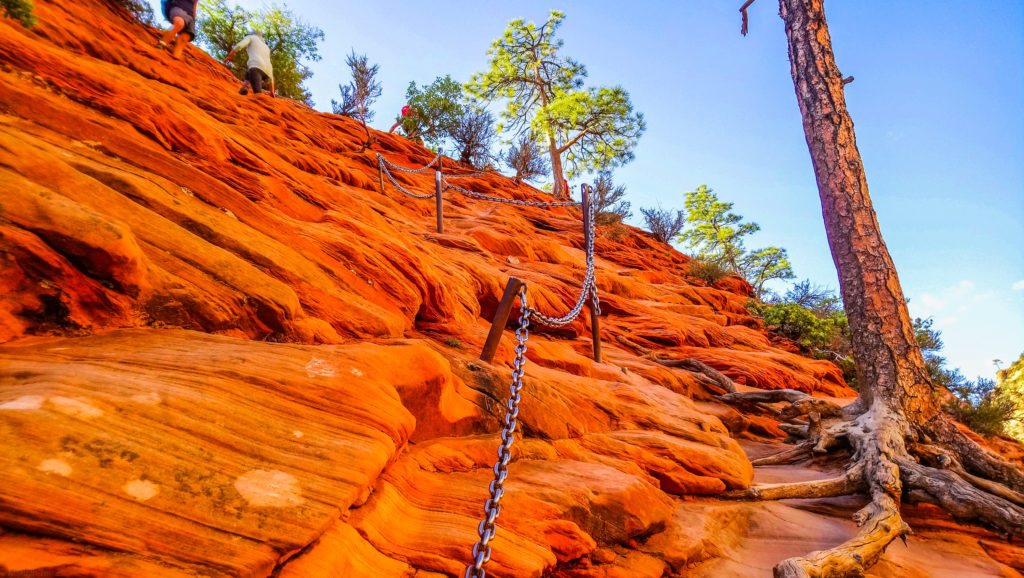 But here we were, parking at Zion National Park visitor's center at 6:30 a.m. and arriving in time for the first Zion shuttle of the day to Angel's Landing. There were already about 20+ people hiking along the beginnings of Angel's Landing Trail in the morning 40-something chill. The elevation snuck up on us quickly as the trail got steep fast at The West Rim Trail. Then, Walter's Wiggles start. Sound cute don't they? The wiggles were these steep, twisty bits of the trail that are guaranteed to make your calves burn. We trekked through Refrigerator Canyon and swung a right up to Scout's Lookout, which marks about the 3.8-mile (6-kilometer) point of the trail. But why come this far if we weren't at least going to flirt with reaching Angel's Landing? After a Sam-Beckett-Oh-Boy and a silent Hail Mary later, I followed Mr. Forkful up the first cliff chains.
The trail just gave way to rocks and a chain around The Saddle. Wind whistled past us from both sides as we inched along the mountain crags. Steep drop-offs bordered us on both sides most of the way. If you stand up right now, square your shoulders, and line up your feet with your shoulders—that's how narrow the trail got along The Saddle. The breaks between chains were also unnerving. This was about the moment when I realized I didn't have a fear of heights, I had a fear of falling.
Things got sketch, fast. Yet another thing I didn't think about: The sandstone was covered in SAND, which made all surfaces extra slippy. We had our hands tightly around chains, tree trunks, and rock outcroppings at all times. There's few places I've visited——from Japan to Southeast Asia to Panama—where Mother Nature's savage AF majesty hit me hard. But The Saddle was one of them.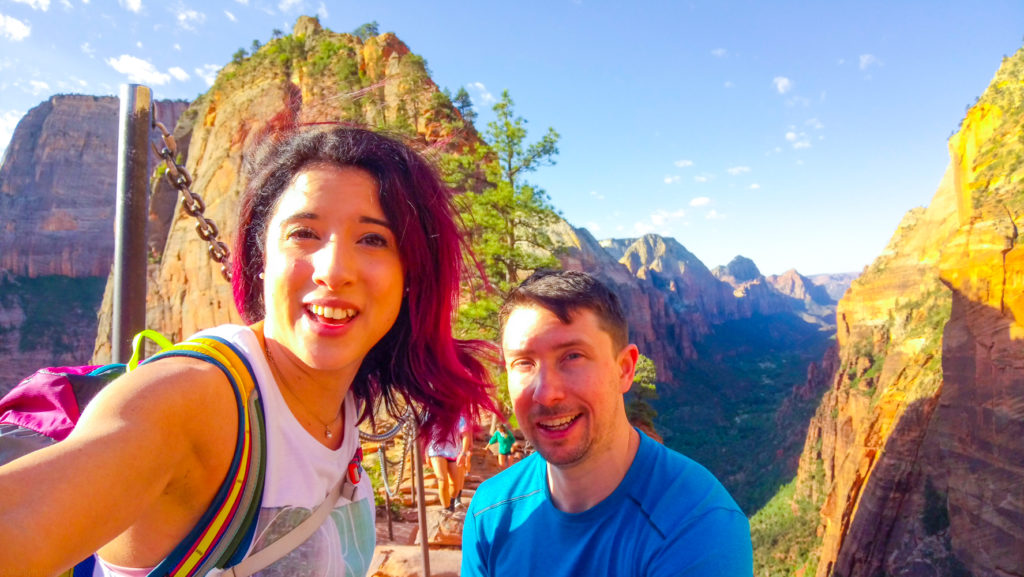 Mr. Forkful sat down on a ledge for a moment, looked ahead at The Hog's Back, and looked at each other. We decided then an there that we were very happy and fortunate to have gotten this far along the Angel's Landing, so we turned back around and inched around people on our way back down. That's another thing, we didn't imagine how narrow these cliffs got let alone that we had to share the sandstone ledges with more and more brave hikers as the morning wore on. Achey and sore, I'm sure we'll be back at Zion better-prepared and ready for another set of hikes. Suggestions are welcome! Thinking about taking on these hikes? Need some hike inspo? Check these sites for more valuable info: