(Editor's Note 04/08/2012: Finesse closed on March 29, 2012. Source: Scott Joseph.)
A new year means fresh menus! This Latin-inspired menu belongs to Finesse (n: the restaurant), a cozy, chef-owned restaurant in Lake Mary, Florida. The main dining room and bar were decorated in dark wood and deep crimson. The walls were covered in culinary terms and their definitions. Foggy on the meaning of paella or chimichurri? Look over someone else's shoulder for a little reminder or a fun ice breaker.
Adam and I recently joined several food bloggers for a taste of Finesse's latest menu items, including a scrumptious soon-to-be-on-the-menu Oxtail Marmalade by Chef Alex Brugger and Chef Autumn McCoy's newest parter and co-owner, Chef Rashmi Primlani. The oxtail was tender with a buttery texture with a light sweetness from the port wine and vinaigrette with a smidge of spice.
The Grouper Cheeks were so weighty and tender that I almost thought they were chicken. Hardly anything puffs up with such a satisfying crunch as a buttermilk breading, and the touch of spiced aioli complimented both the fish and breading. Adam and I also enjoyed the light, refreshing Tuna and Salmon Carpaccio Pinwheels with a thin layer of aioli on medium-sized crostinis. There was also a plate of filling Duck Confit Puffs. The duck took on the consistency of a hearty stew after hours of roasting. The outer pastry was delicate and flaky, but sturdy like a Scottish pastie and was able to hold in the duck confit when I dove in with the hand-held approach.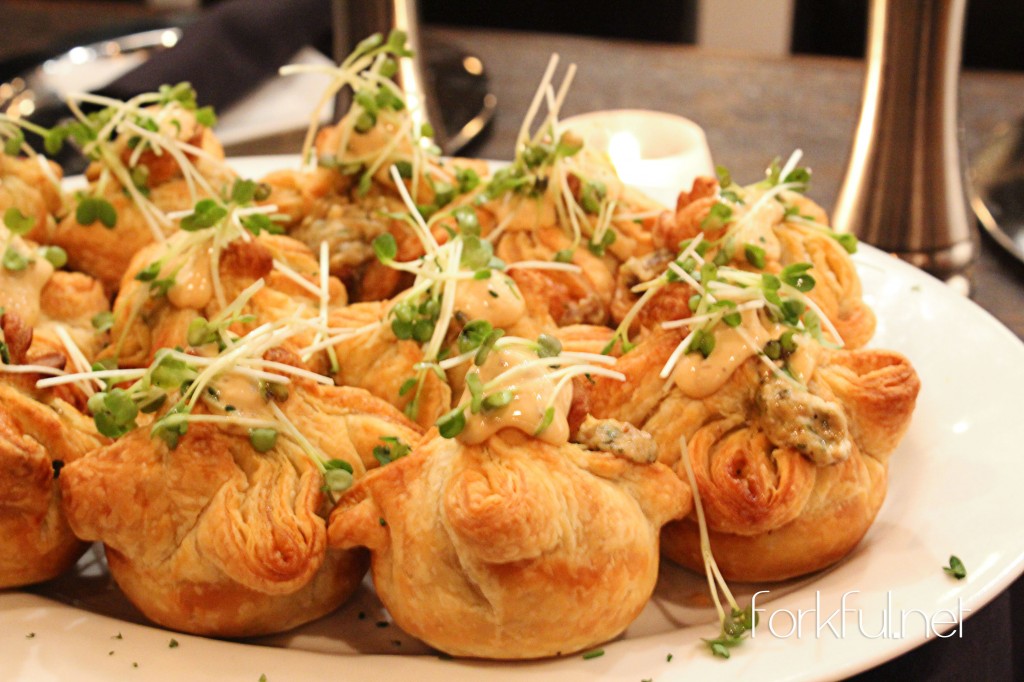 My top pick of the night was the Pork Belly 'n Eggs, which Chef Alex mentioned roasted for hours until tender. The pork meat was juicy and moist with a thin layer of marsala demi-galze. I must have savored the crunchy skin for an embarrassing amount of time — it was like a satisfyingly thick chicharrón (pork rind). The Black Bean Soup was a hearty taste of home for me. The sofrito (a cilantro cooking base) added an unmistakable zest, and some of the beans seemed to have cooked down a bit, which thickened the smooth soup to a hearty stew-like consistency. The soup also had an extra spice from a little Spanish chorizo.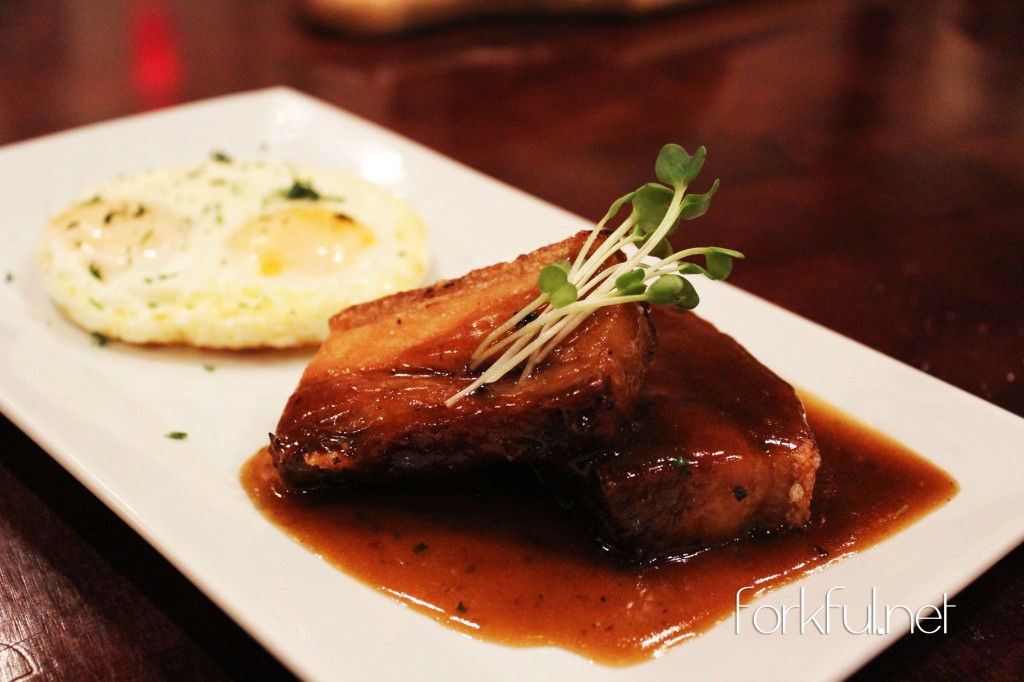 My main entrée was a large Pomegranate-Glazed Salmon; the outside was evenly seared and crispy while the inner layers were tender. The fish had a very mild taste accented by the pomegranate glaze. The side of pasta didn't make a big impression and was eclipsed by the salmon. I could have easily done without the pasta since the fish serving was so large and scrumptious. Adam felt the Bacon-Wrapped Scallops were slightly dry and saltier than expected. The sweet corn hash was a little on the hard side, and the pom-port sauce was lost in the hash. Adam was a bigger fan of the Lobster Crab Soup — large pieces of Maine Lobster and Maryland Crab swam in the heavy, semi-sweet broth.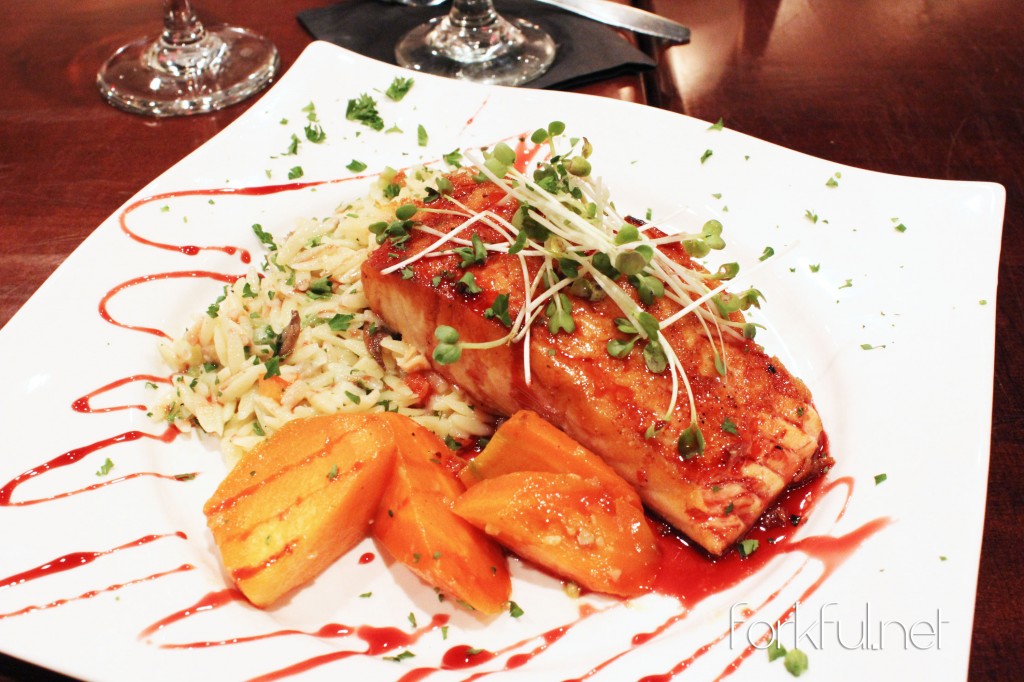 Adam and I almost didn't have room for dessert. My top favorite was the Chocolate Orange Molten Lava Cake with the Fried Banana Cheesecake in Sugar-Cinnamon-Dusted Tortillas and Flan tied for second favorite dessert. The chocolate cake was served in a large ramekin with a side of peanut butter anglaise. I'm no friend to peanuts, but the sauce had the barest nutty hint that complimented the cake's orange zest and heavy chocolate center. Two people who had appetizers and entrées could probably not finish this dessert. I want to plan a future visit to Finesse just order appetizers and share the molten cake with Adam as our main course. Yes, this cake is that epic.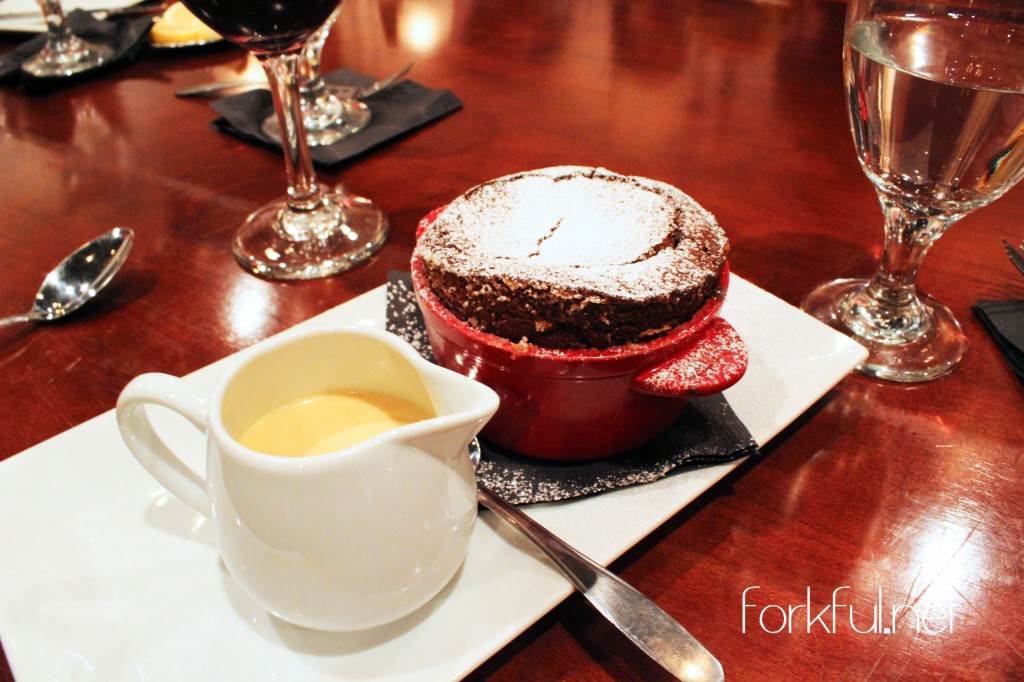 Finesse offers a classic menu with a Latin flair and a focus on food. The offerings are hearty dotted with a few lighter items, including a pom-port sauce that I won't forget. Adam and I came away with a few new dishes to recommend and knowing that in time we'll drive out to Lake Mary for more.
Finesse (n: the restaurant) • Facebook • Yelp
T: (407) 805-9220
Disclosure: The food mentioned in this post was paid for by Finesse (n: the restaurant), although the views and opinions expressed in this post are purely my own. This post was not reviewed by Finesse (n: the restaurant) in any way.