Expect flavorful tomato sauces, fresh-roasted vegetables, and housemade dough toasted in an 800-degree coal-fired oven when ordering a pizza at Anthony's Coal Fired Pizza. The original Anthony's was started in 2002 in Fort Lauderdale, Florida, by New York native, Anthony Bruno. Since then, the Anthony's Coal Fired Pizza family of pizzerias have expanded to 20 locations across South Florida, and has most recently opened several locations in the Northeast.
Ms. Deborah Garcia, General Manager of the Anthony's Coal Fired Pizza in Dr. Phillips, treated Adam and I to a sampling of Anthony's signature dishes including Coal Oven Roasted Chicken Wings, Meatballs with Ricotta Cheese, and their newest addition, the Roasted Cauliflower Pizza. Now, I'm still trying to learn how to incorporate more cauliflower into dishes — like mashed cauliflower instead of mashed potato or grated cauliflower instead of rice — Anthony's has put their own spin on cauliflower. All vegetables that are used as pizza toppings are fresh, marinated, and roasted early every morning. Instead of being stiff, sweet, and nutty, the cauliflower is roasted until tender in one of the two coal-fired ovens. The cauliflower is then steamed as it marinates in its own juices. The result is a juicy, tender cousin of its former self that I could also imagine in a quiche or omelet.
Entrée
Vegetarian-friendly and all-around delicious, the Roasted Cauliflower Pizza is formidable entrée for two people even as a 12-inch pie. The large cauliflower florets, mozzarella cheese, and Romano cheese thicken the pizza to about one inch. The crust, on the other hand, is thin and a bit charred around the edges. The affect is a crunchy bread sturdy enough to hold all the toppings. I could pick up a slice, crease it in the middle, and take a huge bite without being scared that all the toppings would slide onto my plate or lap.
The slight char on the crust and bread crumb topping is what hit me first, and then the heat from the roasted garlic cloves and crushed red pepper. The cloves are roasted daily at Anthony's like the other vegetables, and are they're placed on the pizza, but then the cloves are removed before the pizza is served. There is still enough of the garlic flavor to give the pizza an extra edge, but the real lingering heat I tasted after a few slices was the touch of red chili pepper. Adam ordered an extra plate of fresh, chopped sweet basil, so we sprinkled it on top of the pizza to balance out the heat from the garlic and red peppers.
Sides
I liked the meatballs — they were evenly done, well-seasoned, and moist throughout — but I loved the sauce, Ricotta cheese with basil, and rosemary focaccia bread more. I would actually be happy with just a plate of the sauce, cheese, and focaccia because few things beat fresh-baked focaccia. I won't visit Anthony's again without ordering a plate of oven-roasted wings. The wings had a slight char around the edges with a satisfying crunch in every bite. Unlike wings at other pizzerias, these wings were not spicy, but still had a nice savory flavor. Plus, these wings weren't hiding under thick breading that mask the flavor of the chicken. I could have done without the caramelized onions, although they added an interesting, slightly sweet touch to the chicken.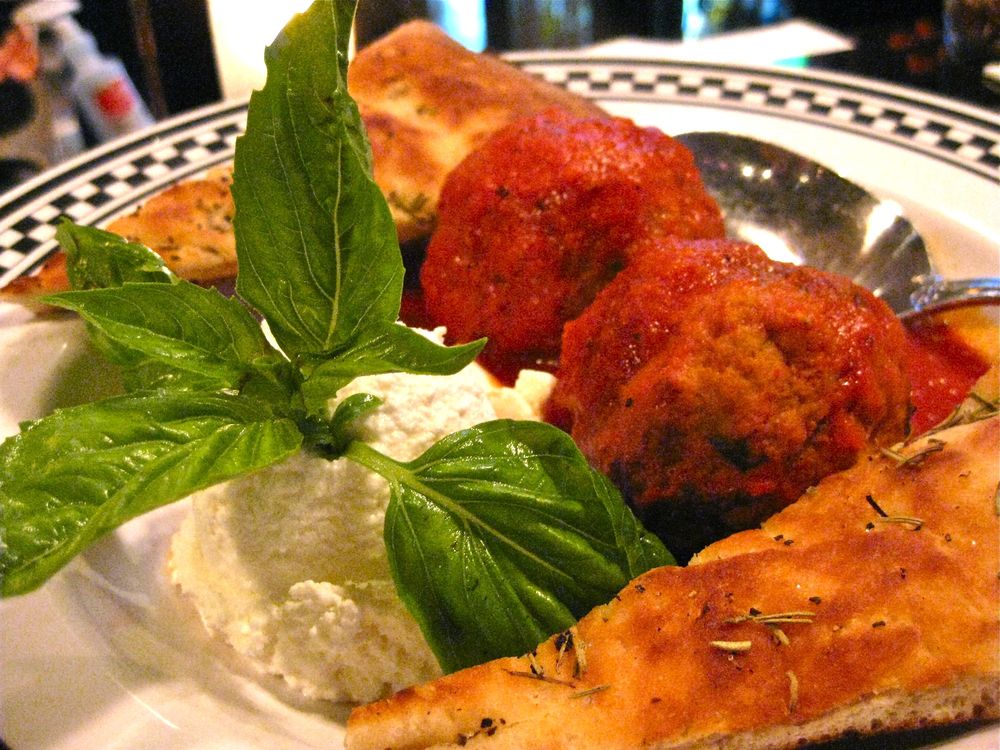 The cauliflower pizza was stepping outside of my pepperoni and bacon comfort zone, but I'm glad I gave it a try because this pie was packed with lots of interesting flavor without the greasy guilt. Anthony's fresh, handmade menu items are unlike any other pizza chains, and with both local and out-of-state craft beers, Anthony's places near the top of my list of pizzerias to revisit.
Disclosure: This meal was paid for by Anthony's Coal Fired Pizza, although the views and opinions expressed in this post are purely my own. This post was not reviewed by Anthony's Coal Fired Pizza in any way.
Anthony's Coal Fired Pizza • Facebook • Yelp • Twitter • Google Maps
T: (407) 363-9466